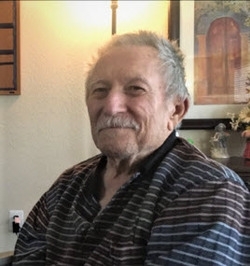 AKC Thomas Lee Cyrus, Sr., USN (Ret.) 79, of Mechanicsville, MD passed away on Wednesday, October 11, 2017 at Charlotte Hall Veterans Home. He was born in Ray, OH on September 12, 1938 to the late Eldon Ulysses and Ethel (Rader) Cyrus. On July 28, 1961, Thomas married his beloved wife, Kiyoka Cyrus in Fukuoka, Japan who preceded him in death on March 29, 2002.

Thomas is survived by his children; Teresa L. Emmart (Thomas) of Mechanicsville, MD and Thomas L. Cyrus, Jr. of St. Inigoes, MD; his grandchildren, Natalie Paige and Meredith Brooke Emmart. In addition to his parents and wife, he is also preceded in death by his brothers, William Lacy Cyrus Sr. and Marvin Cyrus.

In June 1956, Thomas enlisted in the United States Navy and proudly served his country until his retirement in October 1974 as a Chief Aviation Storekeeper. During his service, he earned the Good Conduct Medal (5), the National Defense Medal (2) (1 star). After retiring, he continued his employment with the federal government as a supply management specialist and retired after many years of dedicated service.

During his younger days, he was a long time member of a band in which he enjoyed playing the electric guitar and singing. His greatest love was for his family, whom he enjoyed spending all his free time with especially his granddaughters.

A Graveside Service will be celebrated later at Arlington National Cemetery. Memorial Contributions may be made to Alzheimer's Association National Capital Area Chapter. Arrangements by the Brinsfield Funeral Home, P.A.