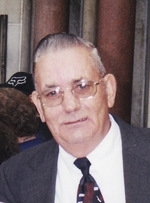 James Richard "Dickie" Graves of Mechanicsville, MD passed away on Saturday, October 14, 2017 at his home in Mechanicsville, MD. Born on September 10, 1938 in Washington, DC he was the son of the late Francis Wilmer Graves and Cora (Ryce) Graves. In addition to his father, he was reared by his aunt and uncle, Eunice and Sydney Turner, and loved as a brother by their children (Jimmy, Mary Helen, and Jerry).

He is survived by his loving wife of 52 years, Diane Louise (Chescavage) Graves and daughter, Jennifer Lynn Ford of Mechanicsville, MD. Also survived by one sister, Betty Jean Davailus of White Deer, Pa; "brothers" James A. Turner (Catherine, Sidney J. Turner (Nancy) ; and "sister" Mary Helen Tippett, all of Mechanicsville, MD. He was predeceased in death by his brother, Francis W. Graves, Jr.

Dickie graduated from La Plata High School in 1957 and was an insurance salesman for Peoples Security Insurance for 30 years. In addition, he worked as a bartender for Al Gatton at the Hills Club. He enjoyed picking crabs, shucking oysters, and most of all spending time with his family and friends.

The family will receive friends on Wednesday, October 18, 2017 from 5:00 PM to 8:00 PM with prayers recited at 7:00 PM in the Mattingley-Gardiner Funeral Home, Leonardtown, MD. A Mass of Christian Burial will be celebrated on Thursday, October 19, 2017 at 10:00 AM in Immaculate Conception Catholic Church Mechanicsville, MD with Father Michael Tietjen officiating. Interment will follow in Queen of Peace Catholic Cemetery, Helen, MD. Pallbearers will be; David Turner, Steven Turner, Sid Tippett, Mike Mays, Jr., Mark Turner, and Glenn Graves. Honorary pallbearers will be John Townsend and Toni Mays Keys. Contributions may be made to St. Mary's Nursing Center 21585 Peabody Street Leonardtown, MD 20650. Arrangements by Mattingley-Gardiner Funeral Home.