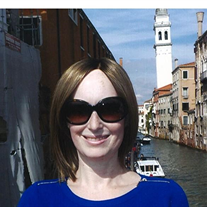 Cassie Beth St. Clair, age 33, of Charlotte Hall, Maryland, died October 4, 2017 at her residence with Hospice. She was the daughter of Glenn Raymond St. Clair and Mary Catherine "Kay" Michael St. Clair. In addition to her parents, she is also survived by her brother, Jeremy R. St. Clair (Lara); his sister, Tonya L. St. Clair; and her nephew, J.J.

Cassie was a graduate of La Plata High School Class of 2002 and worked as a Graphic Designer with Air Force Sgts. Association in Marlow Heights for eight years. Recently she was attending College of Southern Maryland, seeking a degree in nursing. She was a member of St. Mary's Catholic Church in Newport, Maryland. She enjoyed swimming and water sports. She was adventurous, doing skydiving, and was known as a free spirit and fun-loving.

Funeral service and interment are pending at this time. Memorials in Cassie's name are asked to Hospice of Charles County, 2505 Davis Road, Waldorf, Maryland 20603. Arrangements by Raymond Funeral Service.