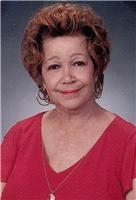 Leathia Elizabeth Phillips-Biscoe went home to eternal rest on September 28, 2017 at Capital Caring Hospice in Lanham, MD. Leathia was born on June 12, 1935 in Dahlgren, VA one of six children (Bertha, James, Adele, Joseph, and Eugene) born to the late Benjamin and Alice Johnson. She was educated in the public schools of King George County, VA, graduating from Ralph Bunche High School in 1953. Leathia was very proud of the fact that her favorite elementary school teacher was her very own sister Adele.

Soon after graduating from high school she married James "Purcell" Johnson, and to this union one son, Tyson J. Johnson, was born. The young family followed older sister Adele to Washington, DC, where Leathia found employment as one of the first African American cashiers for the Safeway grocery chain, and later as an administrative assistant with the Federal Department of the Treasury. Over the course of her 25-year Federal career, Leathia rose through the ranks to the position of fiscal analyst before her retirement in 1987.

In the summer of her life, Leathia married John Phillips ("Phil"), also a Federal employee, and the two divided their time between the suburbs of Washington, DC and Ridge, MD, where they owned and operated "Phil's Marina." During the many years they spent boating with family on their beloved Chesapeake Bay, Leathia's love for life "beside the sea" was sealed, and, after Phil went home to glory in 1989 she moved to Ridge full time.

In 2008 Leathia married a beloved patriarch of the Ridge community, Nicholas "Vincent" Biscoe, and joined him in operating Seaside View Camp Grounds. Much more than proprietors of this idyllic retreat by the Bay, Leathia and "Vince" were like family to many of the residents of Seaside View, sharing many love and laughter-filled crab feasts with their neighbors through the years, and, like true family, sharing their trials and tribulations, too. Leathia often talked about the kindness of neighbors like Delores ("Dee") White and Nora Willis, who were always there in her times of need. In turn, she is remembered by the Seaside community as one who would always "go the extra mile" to help a friend in times of trouble. The family owes a special debt of gratitude to Brian Vasolv, affectionately known as "Bunky", who, although employed as a groundskeeper at Seaside View, was more like a grandson to Leathia and "Vince"; shopping and running errands for them, doing home repairs, and even caring for them in times of illness.

An elegant hostess with a flair for fashion and interior design, Leathia loved entertaining family and friends, feeding our souls with her scrumptious potato salad, orange-flavored candy yams, yummilicious deep-fried turkey, and, most of all, her infectious, often mischievous laughter. It's no wonder that her beloved niece Cheryl called Lea's "to-die-for" collard greens "grins!" "Lea-Lea's" unstoppable "joie de vivre" made her a standout on the ballroom dance floors of southern Maryland, and, for that matter, everywhere she went.

We will always remember Leathia for her fierce-when-need-be loyalty to family and friends. She was refreshingly and sometimes painfully honest, and whether reflecting on the affairs of the world or the affairs of her family, she never hesitated to say exactly what was on her mind. Although it was difficult at times to hear her truth, we always knew that she was coming from a place of love and a keen sense of justice and fair play.

A woman of remarkable strength, Lea survived a series of life-threatening health challenges during the final year of her life. But she would be the first to say that she did so only by standing on the faithfulness of her loving husband, "Vincent", and of her devoted son, Tyson. Tyson took care of Leathia and Vince for several months before her final hospitalization, and the laughter and trials they shared made her last days some of the best days of her life. She wanted the world to know that her gentle, giant-hearted son, Tyson, and his beautiful family are by far her greatest legacy.

Her devoted friend of many years, Janice McDougle, may have summed up Leathia's life best when she said, "I know now what a real friend is." How fortunate we are to have known you, our beloved Leathia, for in the entire history of human achievement there is none greater than this: To be a real friend.

Leathia leaves to cherish her memory: her devoted husband, Nicholas ("Vincent") Biscoe; her son, Tyson Johnson (Gayle); two grandchildren, Frenchesca ("French") and Tyson ("TJ") Johnson, Jr. (Cristina); step-daughter Joy Rothwell (Niles); five step-grandchildren, Nicholas, Mea, Taylor, Derick, and Jaquita Rothwell; four great-grandchildren, Jayda, Jayden, Jade, and Demi; four nephews, including "brother-in-spirit" Ronald Lewis (Eunice), Macon L. Roach, Michael W. Roach, and Eugene Johnson; one niece, Deidra Roach-Quarles (Ernest); lifelong friend and daughter-in-spirit, Janice McDougle (Charles); cousins Barbara and Harry Rowan; and a host of great-nieces, great-nephews, and close friends.

Family and friends will unite on Friday, October 6, 2017 for visitation at 9:00 a.m. until Mass of Christian Burial at 10:00 a.m. at St. Peter Claver Church, 16922 St Peter Claver Road, Ridge, MD 20680. Interment to follow at Little Ark Baptist Church Cemetery, 15681 Owens Drive, King George, VA 22485. Arrangements by Briscoe-Tonic Funeral Home.