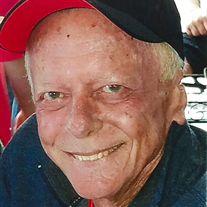 Larry Joe Penn, 72, of Waldorf, Maryland (formerly of Albuquerque, New Mexico) died September 29, 2017 at his Waldorf residence. He was the son of Don S. Penn and Sylvia Mae Schmidt Penn. In addition to his parents, he was also predeceased by his wife, Lillian Staley.

Larry Joe was a retired Warrant Officer with the United States Navy and a former Navy SEAL (one of the first). He loved his golfing and the Blue Crabs baseball team.

He is survived by his sons, Ian T. Penn (Kelli) and Aaron T. Penn; his daughter, Fini Rowland (Robert); his brother, Jerry D. Penn (Margaret); his sister, Paula Lankford (Ed); and his grandchildren, Megan, Molly, Alyssa, and Jason.

Memorial services and interment are planned for a later date. Memorials in Larry Joe's name are asked to DAV (Disabled American Veterans), PO Box 14301, Cincinnati, Ohio 45250-0301. Arrangements by Raymond Funeral Service.