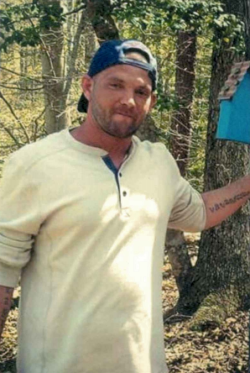 Jimmy Tilley, 31, of La Plata, Maryland passed away on September 20, 2017. Jimmy was born on April 11, 1986 in La Plata, Md., son of Peggie Jean Willett. Jimmy was predeceased by his father, James (Jim Jim) Tilley Sr.; his grandparents Glenwood and Hazel Tilley Sr.; his grandfather William Willett Sr. and Stepfather Craig Wareham.

Jimmy is survived by his wife Brandi N. Ransom, whom he married on February 14, 2011. They together have two beautiful daughters, Taylor Morgan and Cheyenne Gene Tilley. Jimmy is survived by his grandmother Jean Hardesty, four sisters, Jamie (Mike Gross), Stephany Tilley, Gabrielle Wareham, and Tabatha Wareham. He is also survived by many aunts, uncles, cousins, and friends. He shared a close relationship with Stan Coffee.

Jimmy most recently loved rock hunting with his girls throughout Charles County. He also loved fishing, hunting and being outdoors.

Family and friends will be received on Thursday September 28, 2017 at Williams Funeral Home. Viewing will be from 10:00 AM until time of service at 12:00 noon. Interment will follow at Resurrection Cemetery in Clinton, Md.

In lieu of flowers, the family requests that contributions can be made directly to Brandi Ransom for the care of Jimmy's two young daughters.