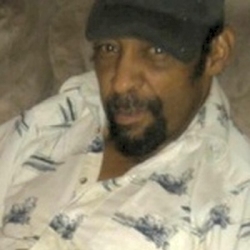 Gerald Ronald Thomas, age 66, of Bryans Road, Maryland.

I AM SAFELY HOME IN HEAVEN DEAR ONES:
OH SO HAPPY, OH SO BRIGHT
THERE'S PERFECT JOY AND BEAUTY
IN THIS EVERLASTING LIGHT.
ALL THE PAIN AND GRIEF ARE OVER,
EVERY RESTLESS TOSSING PASSED,
I AM NOW AT PEACE FOREVER
SAFELY HOME IN HEAVEN AT LAST

On September 21, 2017, God in His Infinite Wisdom summoned our beloved Gerald R. Thomas, at the age of 66, home for eternal rest. He answered the Master's call quietly and peacefully at home with his family.

Gerald was born on January 20, 1951, to Shirley Jean Myers Thomas and the late Ronald Thomas.

A native Washingtonian, Gerald graduated from Spingarn High School in Washington, D.C. After graduation, he worked in the Federal Government for Housing and Urban Development (HUD) and the General Services Administration (GSA) as a Mechanical Engineering Technician. Gerald retired with over 42 years of service on April 2, 2014.

Gerald confessed Jesus as his Lord and Savior and frequently read his Bible. While in the hospital, Gerald stayed focus on Jesus Christ and looked forward to going to Heaven. He thanked God for each day that God allowed him to enjoy his family, his extended family, and friends. Gerald thanked God for enabling him to provide a home for his Mother. While in the hospital he said to his Mother: "I will see you in Heaven."

Gerald especially enjoyed and was very fond of his five little dogs; overseeing their grooming and insuring that they received the very best veterinary care.

He was also a talker. There wasn't a subject that Gerald didn't enjoy speaking on. You had to wait until the right moment to have your say; and he was an avid Redskin fan.

Before Gerald's speech began to decline, he loudly and clearly spoke the words "OH, MY GOD, I AM HEARTILY SORRY FOR HAVING OFFENDED THEE, AND I DETEST OF ALL MY SINS BECAUSE I DREAD THE LOSS OF HEAVEN AND THE PAINS OF HELL. BUT, MOST OF ALL, BECAUSE I HAVE OFFENDED THEE MY GOD WHO IS ALL GOOD AND DESERVING OF ALL MY LOVE. I FIRMLY RESOLVE, WITH THE HELP OF THY GRACE, TO CONFESS MY SINS, AND TO SIN NO MORE."

Gerald will be remembered for being kind, gentle, giving, and caring. He will truly be missed.

Gerald leaves to cherish his memory his Mother, Shirley Thomas; his Daughter. Andria Tyler; 3 Grandsons, Frankie, Isaiah, and William; 1 Granddaughter, Ronyla; 2 brothers, James and Ronald; 2 sisters, Gwendolen and Renee; his extended family that he loved dearly, Nicole, Vonderie, Paris, Javone, and Jayon, and a host of relatives and friends.

Viewing:

Tuesday, Oct 03, 2017
10:00 AM-11:00 AM

Service:

Tuesday, Oct 03, 2017
11:00 AM

Burial:
Tuesday, Oct 03, 2017
2:00 PM

Interment, National Harmony Memorial Park, 7701 Sheriff Road, Landover, Maryland 20785.