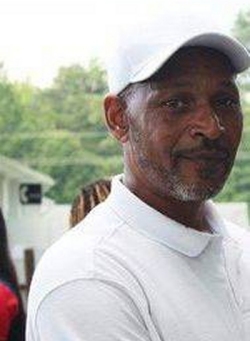 Gerald Arnold Gant "Arnie", 59 of Waldorf, Md. was born on September 17, 1958 to Mary Whalen and the late Paul Butler. "Arnie" was suddenly called to his heavenly resting place on Saturday, September 16, 2017.

Along with his father, "Arnie" is predeceased in death by his brothers, Paul Gant and Thomas Whalen; mother-in-law Mary Hagens and father-in-law Clifton Bowman.

Gerald earned his education in the Charles County Public School system. After attending school he worked at the Ben Davis Steak House in Waldorf, followed by employment with the Charles County Board of Education and then onto the Maryland Department of Motor Vehicle; but his biggest accomplishment was that of obtaining his own franchise business with the Coverall Cleaning Service.

Gerald met and married the love of his life, Lenora Gant on June 19, 1982 and from that union there are two sons, Gerald (Melisha) Gant and Clifton (Terria) Gant.

Gerald was a wonderful man. In just these few days, losing him has been a great lost. He was a man of great principals, and had a lot of heart, always happy and witty; a very loving family man. He was a man with great integrity, and plenty of love. God really knew what he was ooing when he created Gerald. Gerald's greatest love was that he treasured family and gave his family the strength for motivation to always go forward. As Gerald looks down upon his loved ones, there is no doubt that he will be letting his earned wings stride among the heavens with great ease and grace. He was always there to help anyone in need no matter what he had to do he took the time to make sure they were ok. Gerald enjoyed listening to his Oldies But Goodies music, cleaning his cars, and spending time with his family.

Gerald leaves to cherish his memory, his mother, Mary Whalen, his loving and devoted wife of 35 years Lenora; his two sons Gerald (Melisha) Gant and Clifton (Terria) Gant; five grandchildren Jaden, Alani, Takiera, Talik, and Taraj; six sisters, Margaret (Ronnie) Butler-Glover, Shirley Fortune, Janice (Joseph) Stewart, Tammie Whalen, Shellayne Whalen, and Phyllis Whalen; four brothers Philip Whalen, William (Bernadeine) Whalen, James Whalen and Johnny Whalen; two sisters-in-law Felicia Hagen and Lacetta Bowman; as well as a host of aunts, uncles, nieces, nephews, relatives and friends.

Visitation will be held on Monday September 25, 2017 at St. Peter's Catholic Church, St. Peter's Drive Waldorf, Maryland from 9:00 a.m. until 9:45 a.m. with Mass of Christian Burial 10:00 a.m. Interment Trinity Memorial Gardens Waldorf, Maryland.