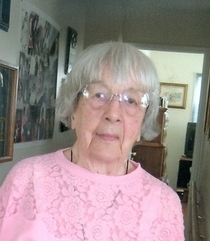 Irene Alice Spalding, 91, of La Plata, MD passed on Tuesday, September 19, 2017 at the Hospice House of Charles County. Irene was born on December 10, 1925 in Butte, MO to the late Harriett and Lee Hill, moving to Seattle, WA at the age of six months. She was the 7th of 11 children.

She attended school in Seattle, worked for the US Government during WW2 and met her beloved husband, the late Charles (Charlie) Spalding, of LaPlata, who was stationed in Seattle. After moving to Washington, DC in 1946, Charlie brought her to his hometown in 1953 where she worked for the Charles County Board of Education and the Southern Maryland Credit Bureau.

Charlie and Irene were married for 58 years before Parkinson's took him from her and their family. Also preceding her in death were daughters, Linda Lee and Susan Marie Spalding and her 10 siblings. Affectionately known as "La Plata Command", she was a devoted wife, loving mother, grandmother, great-grandmother and aunt. The first memory of her to all will be her chocolate chip cookies which she shared with many! She was a member of Sacred Heart Catholic Church.

Irene is survived by sons, Charles Kenneth Spalding (Joanne) of Florida and Roger Lee Spalding of Golden Beach; four grandchildren: Matthew Spalding (Grace), Hillary Spalding, Megan Spalding and Marisa Reeves (Charles); six great-grandchildren: Kameron, Emma, Mason, Carter, Nolan and Jasmine; many nieces and nephews; and "adopted" granddaughter, Pam Gantt.

Visitation will be held on Sunday, September 24, 2017 from 2-4PM and 6-8PM, with prayers at 7PM at Arehart-Echols Funeral Home, PA (211 St. Mary's Ave., La Plata, MD). Funeral services will be held on Monday, September 25, 2017 at 10AM at Sacred Heart Catholic Church (201 St. Mary's Ave., La Plata, MD); Interment to follow at Sacred Heart Catholic Church Cemetery. In lieu of flowers, donations may be made to the Sacred Heart Cemetery Fund, Hospice of Charles County or Charles County Rescue Squad. Arrangements by Arehart-Echols Funeral Home.