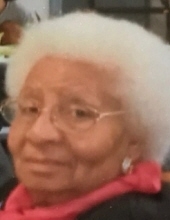 Willie Bea Somerville, 89, was born December 18, 1927 in Warrington, NC to the late Isham Perry and Mary Liza Debman Perry. Known to many as Bea, she lost her mother at a very young age. Bea was then raised by India "Indie" Williams who married her father Isham. Bea accepted Christ at an early age and was baptized at Greenwood Baptist Church. She was educated in the Warrington County Public School system, and graduated from John R. Hawkins High School.

On June 16, 1946, she married the apple of her eye, Clifton Somerville. They made their home in Lexington Park, MD in 1950 and were blessed with eight beautiful children. Bea passed away peacefully on September 12, 2017 surrounded by family and friends after a long battle with illnesses. Bea, was a devoted wife, loving mother, grandmother, aunt, sister and friend. She loved caring for her family and her children were always at the forefront of her life. You knew Bea's children because they were always creased and greased with Vaseline. Bea raised many children in the neighborhood, and played a significant parenting role in the Bauer, Juebeck, and Luecke families.

She was a kind-hearted person with a beautiful smile who loved and accepted everyone. Bea loved the Lord and enjoyed attending First Baptist Church, her favorite scripture was Psalm 23. Bea was employed as a domestic engineer where she enjoyed her passion of cooking and caring for others. She also loved flowers, gardening, and reading books.

Bea is survived by her husband Clifton Somerville and seven children Betty, Patricia, Lashawn, Shanna, James, Bobby, and Harold, one son in law, Earl Castain, 12 grandchildren, 17 great-grandchildren, and a host of nieces and nephews. Bea is also survived by seven siblings Jessie Lue, Mildred Tucker, Helen Perry Davis, Clara Kinlaw, James Cleamon Perry, Barbara Alston and Clifton Perry.

Bea was preceded in death by her mother's Mary & In die, father Isham, son Jamie, and four siblings William, Carl, Maurice and Mark Perry. Bea was loved by her special friends Bell & DC Smith (deceased), Loraine Carey, Francis "Furman" Dyson, and an exceptional caregiver, Carlene Dalrymple. Arrangements by Sewell Funeral Home.