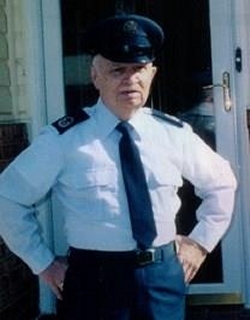 Douglas Clifford Farmer, 89, of Waldorf, Maryland passed away quietly on August 29, 2017.

He was born December 12, 1927 in Blue Mountain, Alabama. He graduated from Alexandria High School in Anniston, Alabama in 1947. In 1953 he enlisted in the United States Air Force, and after completing Technical Training School in Biloxi, Mississippi, was stationed in the Washington, DC area. There he met his future wife Ellen R. Clark of Beltsville, Maryland. They were married on September 17, 1955. During his Air Force career, his postings included Hawaii, Alaska, Florida, and Maryland. He was honorably retired from the United States Air Force at the rank of Master Sergeant in 1976, whereupon he and his family settled in Waldorf, Maryland.

After retirement, he was employed in Federal Civil Service, where he was retired with honors in 1993. Douglas earned degrees in both Paralegal and Horticulture from Charles County Community College in LaPlata, Maryland. He was a 32nd degree Freemason and Past Worshipful Master of Justice Lodge, Order of Freemasons, in Takoma Park, Maryland.

His hobbies included gardening, art, music, horticulture, and birdwatching. He was also a lover of animals, especially cats, and cared for many pets over the years.

He is survived by his loving wife of nearly 62 years, Ellen R. Farmer, his daughter Melanie Lee LaPierre, both of Waldorf, and his son, Michael Douglas Farmer of Dayton, Ohio.

Donations in lieu of flowers can be made to The Alzheimer's Association. Interment will be at the Maryland Veterans Cemetery in Cheltenham, Maryland on September 7, 2017 at 9:30AM.