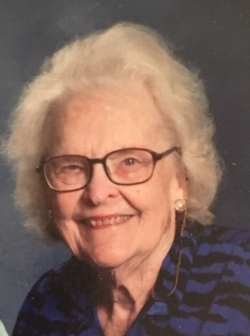 Dorothy W. Stringer, 96, of Deale, MD passed away September 8, 2017 at the Mandrin Inpatient Care Center in Harwood, MD. Dorothy was born July 16, 1921 to Winifred (Stuart) and Milton Whitney. She was raised in Takoma Park, MD and graduated from McKinley Technical High School with honors at age 16. She was active in the Nature Club where she met her future husband George Stringer. After high school she worked to help support her family at Woodward & Lothrop and later at the Department of Agriculture. When Congress voted to allow women to join the Armed Services during WWII, Dorothy enlisted and served in the Women's Army Corps, and was discharged as a Corporal February 25, 1946. After the war, George and Dorothy were married in West Palm Beach and spent 64 years of marriage together until his passing in 2010. They lived in Silver Spring where she was a homemaker raising their three children, and spent weekends as a caregiver at the home of George's parents in Deale, moving there permanently in 1980. Dorothy was known as a gourmet cook, and the family paramedic, seamstress and diplomat. She was a faithful member of Cedar Grove U.M. Church, a Sunday school teacher, Cub Scout Den mother, Girl Scout leader, and election judge. She was known for her happy spirit and enthusiasm for life.

Dorothy was preceded in death by her parents, her husband George, and a sister Margaret Culjat. She is survived by her sons George F. "Rick" Stringer III, with whom she lived in Deale, and William F. Stringer and wife Lynn of Port St. Lucie, FL, a daughter Barbara Stringer Kumnick and husband Alan of Charlotte, NC, and grandchildren William L., Whitney M. and William F. Stringer, and Kelly E. Fenton.

Dorothy's family will receive visitors on Saturday October 7 from 10 to 11 AM at Cedar Grove United Methodist Church in Deale, where a memorial service and celebration of her life will be held at 11:00 AM. Following the service a reception for attendees will be held in the church fellowship hall.

Inurnment at Arlington National Cemetery for George and Dorothy will take place at a later date. In lieu of flowers, donations in Dorothy's name may be made to Cedar Grove U.M. Church.