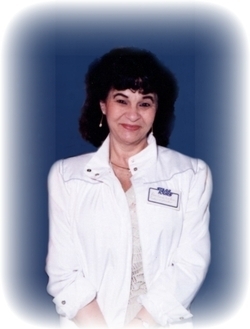 Amelia Barbara Bump, 90, of Mechanicsville, MD (formerly of Bensalem, PA), passed away September 11, 2017 at St. Mary's Nursing Center in Leonardtown, MD. She was born January 3, 1927 in Pennsylvania to the late Nicholas Luke and Amelia Zaborski Luke.

On February 2, 1946, Barbara married her beloved husband, Charles Bump. Together they celebrated over 35 wonderful years of marriage before his passing. She worked as a meticulous house keeper for many people and St. Bede the Venerable Church in Holland, PA. for many years until her retirement at age 85. She took great pride in her work and loved the company of the people she worked for.

She was a delicious cook and was known for her homemade nut bread. She had beautiful flower beds and vegetable gardens. She enjoyed bowling and spending time with friends and family. Every day for over 30 years she and her friend, Mary, enjoyed sitting on the porch having tea and cake. She was close to her daughter and loved to spend time together.

Barbara is survived by her daughter, Bernadette Nagy (Robert) of Mechanicsville, MD; her sisters, Katherine Tirk and Virginia Vegas, both of Forestville, PA; her grandchildren, Jennifer Nagy, Jonathan Nagy, and John Bump, Jr. (Leslie); her great grandson, Mitchell Bump; and many extended family and friends. In addition to her parents and husband, she is also preceded in death by her son, John Melvin Bump, Sr.

All services will be private. Memorial contributions may be made to the Alzheimer's Association, 3701 Pender Drive, Suite 400, Fairfax, VA 22030. Arrangements by the Brinsfield Funeral Home, P.A.