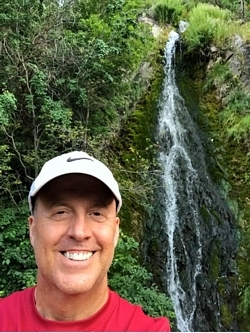 Christopher J. Parkes, formerly of Lusby, Maryland joined his parents in heaven on August 25th at the age of 55. Chris is survived by his wife of 32 years, Tracy "TJ" (Fisher) Parkes; daughter Courtney; brothers Stephen and Gregory Parkes; uncles John Fencik, Doug Parkes and Rick Parkes; and several cousins and their families. He was preceded in death by his mother Joan Fencik Parkes and Ronald G. Parkes, formerly of Ormond Beach, Florida.

Chris and TJ enjoyed nine months of retirement near Salt Lake City, Utah, until his life was cut short by a heart attack. Chris' passion for life and love of his family and friends was inspirational. Chris enjoyed skiing, hiking and mountain biking in their home in Sandy, Utah. Chris was an accomplished musician and enjoyed playing guitar and attending concerts. He retired from NAVAIR, Pax River, Maryland in November 2016 with 34 years of service to the Department of Defense.

There will a Funeral Mass and reception at Our Lady Star of the Sea Catholic Church in Solomons, Maryland on Friday, September 22 at 10am. In lieu of flowers, the family requests donations be made in Chris' memory to Special Olympics Maryland, St. Mary's County, 25926 Whiskey Creek Road, Hollywood, MD 20636. Arrangements by Rausch Funeral Home.