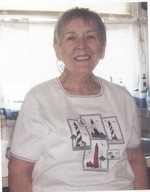 Carol Kellis, 74, of Great Mills, MD passed away after a courageous battle on September 6, 2017 at MedStar St. Mary's Hospital in Leonardtown, MD. Carol was born on April 25th, 1943 to the late Flora and Stephen Lambertson of Monmouth, NJ. Carol is survived by her devoted and loving husband of almost 55 years, Norman (Joe) Kellis, and her 2 sons, Robert Kellis ( Lori) of Great Mills and Thomas Kellis (Brenda) of Clermont, Florida.

She is also survived by her siblings, Bernice Aumack of Port Monmouth, NJ, Joyce Walling of Freehold, NJ, Stephen Lambertson of Ocean Township, NJ, and William Lambertson of Matawan, NJ. Carol had 4 grandchildren that she was very proud of, Amber Kellis of Lexington Park, MD, Kevin Kellis of Great Mills, MD, Clarissa Kellis of Clermont, FL, and Mariana Kellis of Clermont, Florida. She also loved spending time with her 2 great-granddaughters, Alaysia Graham and Jocelyn Graham of Lexington Park, MD. She also loved spending time with all her family and friends.

Carol met the love of her life on the boardwalk in Atlantic City and they were married on November 17, 1962. Norman was in the Navy and they were transferred from Virginia to Patuxent River in 1971. In their retirement years, she enjoyed dividing her time between her Maryland and Florida Homes.

Carol worked for American Greeting Co. and was the secretary for Lexington Park Baptist Church for many years. Carol had an unwavering faith in God and enjoyed Bible Studies and attending Women of Faith conferences with close friends. She loved crocheting and donating her handmade items to CareNet, Nursing Homes, and women's prisons. Most of her family and friends have some of her handmade items. She was passionate about lighthouses and enjoyed participating in the Lighthouse Runs with her family members.

Carol was committed to her family and set a wonderful example by always putting others first. She saw the best in everyone and was often the only one to reach out to those that had no one else. She also never failed to send a card for every occasion. She spent her life serving others and will be missed by all who know and loved her. Prayers and a celebration of her life to be announced at a later date. Arrangements by Mattingley-Gardiner Funeral Home.

"You will always be our beacon of light"