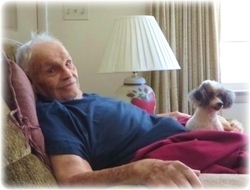 Charles Raphael "Britches" Carroll, 89, of Lexington Park (Bay Forest), died on Thursday, September 7, 2017 at MedStar St. Mary's Hospital, Leonardtown, MD. He was born August 17, 1928 in Dameron, MD. He was the son of the late James W. and Mary Elizabeth Trossback Carroll. Britches was a lifelong resident of St. Mary's County and graduate of St. Michaels High School.

He was employed for over 44 dedicated years as a maintenance supervisor with Patuxent Development Corporation in Lexington Park, MD until his retirement in 1998. He was also a part-time farmer and enjoyed entertaining at his home on Carroll Farm. He enjoyed riding his gator around the farm, fishing and grew beautiful gardens. He also loved working on his tractors. He was a past volunteer fireman. In retirement, he designed and built unique wooden structures for friends and family. He built his house from wood he cut down on the family farm. He was a member of St. Michael's Catholic Church and later St. Cecelia's Catholic Church.

He is survived by his wife, Jane Douglas Carroll of Lexington Park; his children: James "Sparky" Carroll (Diane Marie) of Columbus OH, Jane "Cookie" Duncan (Dan) of Hazlehurst, MS, Patsy Anne "Patty" Carroll Lettau (Donnie) of Lexington Park, MD, Julianna "Juli" Miller (Steve) of Lexington Park, MD; daughter-in-law, Rebecca Carroll of Lexington Park, MD; 12 grandchildren, 17 great grandchildren with two more on the way; and his brother, Richard W. "Dick" Carroll (Dolly) of Dameron, MD. In addition to his parents, he is predeceased by his first wife, Arrah Jane "Pat" Saunders Carroll; son, John Francis Carroll of Lexington Park; and his brother, John Francis Carroll of Oxford, PA.

Family will receive friends on Saturday, September 16, 2017 from 10:00 a.m. to 12:00 p.m., with a Memorial Service celebrated at 12:00 p.m. at Brinsfield Funeral Home, P.A., 22955 Hollywood Road, Leonardtown, MD 20650. Interment will follow at St. James Cemetery. Memorial contributions may be made to Ridge Volunteer Rescue Squad, P.O. Box 456, Ridge, MD 20680. Arrangements by the Brinsfield Funeral Home, P.A.