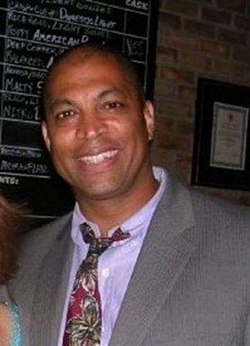 Reginald Jaimes "Reggie" Pearman, 51, of Huntingtown, Maryland passed away September 8, 2017 at Calvert Memorial Hospital. He was born November 12, 1965 in Caracas, Venezuela to Reginald James and Jean (Gaines) Pearman. Reggie was raised in Bethesda, Maryland and graduated from Walt Whitman High School. He then attended Long Island University, in New York on a soccer scholarship and graduated with a degree in accounting.

Reggie married Dr. Michelle Johnson on July 5, 1997 and they lived in Silver Spring, Maryland before moving to Huntingtown in 2003. He was employed as an accountant with the Department of Justice for over 20 years. Reggie enjoyed playing soccer, traveling, scuba diving and spending time with his family.

Reggie was preceded in death by his parents and sister Jeanita Danzik. He is survived by his wife Dr. Michelle Johnson of Huntingtown, children Alexis Ann and Dylan Jaimes Pearman, sister Lydia Pearman Harris of Silver Spring, Maryland and niece Aisha Harris, as well as numerous cousins, family and loved ones. Arrangements by Rausch Funeral Home.