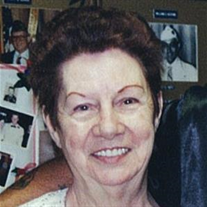 Margaret Elizabeth Thompson, a life-long resident of Maryland died on September 7, 2017 at Genesis Healthcare in Severna Park. She was 94 years old. Born on June 16, 1923 in Hughesville, she was the daughter of the late Martha and Harvey Padgett. Mrs. Thompson was a cashier with the former Drug Fair Drug Store. She enjoyed doing crafts and she loved country music and dancing. She especially enjoyed being with her grandchildren.

In addition to her parents, she was preceded in death by her husband James V. Myers and Leslie A. Thompson; her son Eddie Myers; siblings Phyllis Cribb, Louie Padgett and Bubby Padgett. She is survived by her children Louise Morgan, James Myers (Millie), Frances Bailey (Tommy), Roger Myers, Kenny Thompson (Melissa), Bobby Thompson and Lorraine Wells; 12 grandchildren, 12 great grandchildren, five great great grandchildren; her best friend is Mary Agnes Bailey.

A visitation will be held on Thursday, September 14, 2017 from 9:30 AM until time for service to begin at 11 AM at the Raymond Funeral Service, P.A. 5635 Washington Avenue La Plata, MD 20646. Interment to follow at Fort Lincoln Cemetery in Brentwood, MD. Memorial contributions may be made to the American Cancer Society. Arrangements by Raymond Funeral Service.