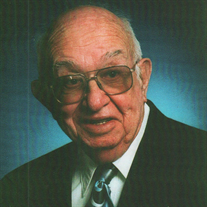 Donald Eckhart Price, 94, beloved husband, father, grandfather and great-grandfather, passed away on Saturday, September 9, 2017, at Burnett Calvert Hospice House in Prince Frederick, MD, after a short illness. Born in Adams City, CO on July 29, 1923 he was the son of the late George and Matilda Rae (Eckhart) Price.

Donald enlisted in the Army Air Corps December 29, 1941. He served as a mechanic and parachute packer in the Pacific Theater rising to the rank of Sergeant. He was stationed in New Guinea and the Philippines and received an honorable discharge on January 25, 1946.

He received his BA from UMBC under the GI Bill. He married his first wife, Leatha (Fries) in July, 1947 and she passed away in 2001. They lived in Londontowne, at Edgewater, MD. He married Barbara Dawson January 5, 2003 and they lived in Owings, MD.

Donald had a long and distinguished career in civil service with the Interstate Commerce Commission and General Accounting Office. He was a civic leader in many organizations, including: The Londontowne Property Owners Association, Knights of Pythias, Ruritan Club and Anne Arundel Chapter of the American Parkinson's Disease Association.

Donald Price is survived by wife Barbara, and his four sons: Charles Malvern (Linda Sue), of Salisbury, MD; and George Wesley (Kathy) of Dublin, VA; Paul Scott (Cathy), of Chapel Hill, NC; and Philip Gregory (Debra), of Spartanburg, SC., seven grandsons, three granddaughters, and six great-grandchildren.

The family has requested in lieu of flowers donations be made to: Calvert Hospice, PO Box 838, Prince Frederick, MD 20678 or Smithville United Methodist Church, 3005 Ferry Landing Road, Dunkirk, MD 20754. Arrangements by Lee Funeral Home.