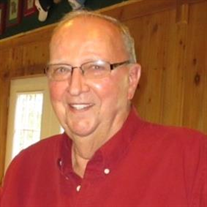 Carl Caylor Shepherd, 83, of Swan Point, Maryland passed away Wednesday, September 6, 2017 with his son by his side. Carl was born September 21, 1933 in Washington, D.C. the son of Carl Albert and Edna Emma (Gutman) Shepherd. In 1962, he married JoAnn Burgess, the sunshine of his life, and they enjoyed 55 good years together. Carl served his country in the Navy from 1952 to 1956. He was an electrician in the IBEW Local 26. He worked for and retired from Singleton Electric Company after 34 years. He was the foreman on many significant projects in the area including the National Air and Space Museum.

He is survived by his wife, JoAnn, his daughter Carla (Tom) Williams and son John Shepherd, his grandchildren Hope and Aaron, his brother Robert Lee Shepherd, as well as many extended family and friends who will always remember Carl as being kind, generous and full of life. He was a big presence, full of humor, patience, and compassion. He will be missed by all who knew and loved him. The family gives special thanks to the ICU staff of UM Regional Medical Center La Plata for being gentle and kind caregivers over Carl's last days.

Funeral service will be held Friday, September 15, at 11:00 a.m. at Christ Church Wayside, 13050 Rock Point Rd, Newburg, MD 20664. Memorial contributions may be made to: Cobb Island Volunteer Fire Department, 17069 Cobb Island Rd, Cobb Island, MD 20625, or Christ Church Wayside. Arrangements by Raymond Funeral Service.