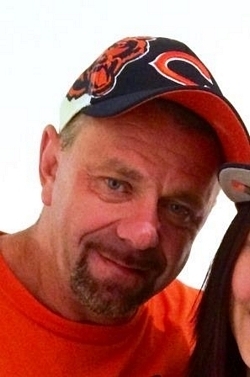 Ronald Chad Thacker, 51 of Valdosta, GA, formerly of Lusby, MD, passed away on September 4, 2017 at South Georgia Medical Center. Born October 10, 1965 in Prince Frederick, MD, he was the son of the late Clarence Thacker and Cherry Marie (Ogan) Thacker. Ronald graduated from Calvert High School and was the owner/operator of a gas station.

Ronald was an avid Chicago Bears fan. You could always find him on a Sunday either watching the Bears, the Orioles, or rooting for Kevin Harvick during the races. Ronald enjoyed spending time with his family, especially at "Uncle Rog's" house. To Ron, there was nothing better than a good cooked meal and an ice-cold beer. If you ask anyone about Ronald they would have nothing but positive things to say and also mention how great his sense of humor was. Ronald was always making someone laugh or laughing with someone. He will forever be in our hearts.

He is survived by his daughters, Kayla Jo Turner of Sarasota, FL and Destiny Tyler Thacker of Orange City, FL; grandchildren, Zaiden Edward Thacker of Lusby, MD and Skylar and Aubree Pugh of Orange City, FL; brother, Wallace Thacker of Lusby, MD; and many aunts, uncles and cousins. Ronald was preceded in death by his brother, Clarence Thacker, Jr.

Family will receive friends on Friday, September 8, 2017 from 5:00 to 8:00 PM at Rausch Funeral Home, P.A., 20 American Lane, Lusby, MD 20657. A funeral service will be held on Saturday, September 9, 2017 at 11:00 a.m. in the funeral home chapel. Interment will follow in Olivet United Methodist Church Cemetery, Lusby, MD. Memorial contributions may be made in his memory to the American Heart Association, P.O. Box 5216, Glen Allen VA 23058 http://www.heart.org. Arrangements by Rausch Funeral Home.