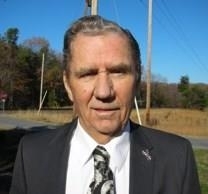 Joseph William "Billy" Johnson Sr., 89, of Bel Alton, MD passed away peacefully on September 1, 2017, at Quality Health of Fernandina Beach, Florida, where he was being treated for kidney failure. Billy enjoyed hunting, fishing, gardening, dancing, and bluegrass music. He loved sitting outside waving and chatting with his beloved neighbors on Lomax Road.

Born July 13, 1928 in Hill Top, MD Billy was predeceased by his wife of 61 years Edna Mae Johnson and 8 brothers and sisters Avral, Ethel, Mary, Rosary, Cora, Josephine, James and Harold. He is survived by 2 sisters Annie and Elaine, 2 brothers Walter and Henry, 5 children Elaine, Joe, Nancy, Kathy, Jimmy, 6 grandchildren James, Tai, Casey, Jennifer, Amy, Corey, and 5 great grandchildren James, Charlotte, Noah, Mya, and Alexander.

In December 1950, Billy enlisted in the Army, 11th Airborne Division/511 Regiment where he served with Dwight Eisenhower. After leaving the Army, Billy sold life insurance and later purchased Bel Alton ESSO Gas Station and Bel Alton Motors a used car business. Billy was well known as the best mechanic in Charles County. He sold the station in 1967 and then worked for Maryland Tobacco Growers for 18 years before retiring.

Viewing will be held on Monday, September 11, 2017, from 10am to Noon at Huntt Funeral Home, 3035 Old Washington Road, Waldorf, MD. The funeral will follow at Christ Church Durham Parish, 8700 Ironsides Road, Nanjemoy, MD. In lieu of flowers the family asks that donations be sent to Quality Health, 1625 Lime Street, Fernandina Beach, FL, 32034 or Community Hospice, 1348 South 18th Street, Medical Office Bldg B, Fernandina Beach, FL 32034. Arrangements by Huntt Funeral Home.