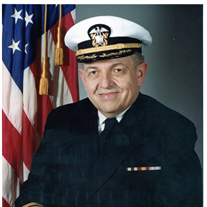 Capt. USN Dr. Harold William Sorrill, Jr. left this life on September 4, 2017, just prior to 3:00 a.m., at the Charlotte Hall Veterans Home in Charlotte Hall, Maryland. In his final years, he bravely navigated four unique cancers, pneumonia, and the loss of his ability to walk. During the journey he wrote his memoirs, witnessed and counseled those in need, and demonstrated on a daily basis his relationship with his Lord.

He was preceded in death by his father, Harold William Sorrill, Sr., and his mother, Jule Ella Ginn Sorrill. He is survived by his wife of 59 years, Fay Burkes Sorrill of Solomons, Maryland; his daughter, Donna Sorrill Carnahan; three grandchildren, Jennifer Fay Carnahan, Ashley Elisabeth Radano, and Aaron Michael Carnahan; one great granddaughter, Ella Fay Radano, all of California, Maryland; and one sister, Bobbie Sorrill Patterson of Solomons, Maryland.

Dr. Sorrill graduated from Anacostia High School in Washington, D.C., after attending public schools in Virginia, New Mexico, Illinois, and Mississippi. He received a Bachelor of Arts from Mississippi College; a Master of Divinity from Southwestern Baptist Seminary; a Master of Theology from Southern Baptist Seminary; and Doctor of Divinity from Southern Baptist Seminary. He served as a Navy Chaplain with the Third Marine Division in Okinawa, Japan, South Korea, and the Philippines; the Third Marine Expeditionary Unit in Thailand; the Naval Air Station in Corpus Christi, Texas; the Navy Housing Activity in Yokohama, Japan; and the Naval Amphibious Base in Little Creek, Virginia.

He then returned to the Naval Reserve where he served until he retired with the rank of Captain. He served as Minister of Education and Associate Pastor of the Congress Heights Baptist Church for three years and as Pastor of the Clinton Baptist Church for 25 years. The church then gave him the title of Pastor Emeritus upon his retirement. Active in denominational work, he served as Secretary/Treasurer and President of the D.C. Baptist Pastors Conference, a member of D.C. Baptist Convention Christian Education Committee, a member of the D.C. Convention Nominating Committee; a member of the Joint Committee on Cooperation between the Maryland and D.C. Conventions; and as a member of the Executive Committee and the Public Affairs and Evangelism Committees of the D.C. Baptist Convention.

Additionally, he served as President of the D.C. Baptist Convention for the years 1976-77. He served on several national boards for the Southern Baptist Convention including the Committee on Boards, the Education Board, and the Annuity Board. Most notably, he served as Guest Chaplain for the U. S. Senate, the Maryland Senate, and the Maryland House of Delegates. He served as Coordinator of Invocations for the Prince George's County Council, and on the County Prayer Council Committee. When he retired from the full-time ministry he served an interim pastor at Callaway Baptist Church, First Baptist Church of Saint Charles, and led prayer services for many local organizations.

After he retired, he served as full-time daycare provider for his grandchildren, and later, his great grandchild. He served as an assistant den leader for Cub Scouts and chaplain for his grandson's Boy Scout troop. He could be found on soccer sidelines, at band and chorus concerts, and patiently waiting at the school for his grandchildren. He continued actively serving as a minister in all areas of his life even through his time at Charlotte Hall Veterans Home.

The Celebration of Life for Dr. Harold Sorrill, Jr. will be held on Saturday, September 16, 2017, from 1:00-3:00 pm, at Clinton Baptist Church, 8701 Woodyard Road, Clinton MD 20735. Family will welcome guests before and after the 2:00 service. The family invites all extended family, friends, and those who served alongside him in his military and Christian service. They thank you for the generous outpouring of prayer and love throughout his illness. In lieu of flowers please consider a donation to the Clinton Baptist Church in his name. The family expresses our sincere thanks to Lee Funeral Home in Clinton, Maryland, for their gentle, valuable support and counsel. Interment will be held at Arlington National Military Cemetery at a later date. Arrangements by Lee Funeral Home.