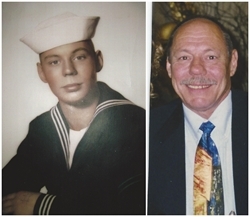 John Dale Lewis passed away peacefully in his home on September 6th at age 72. John was born December 14, 1944 in Tecumseh, Kansas to Richard Stanley Lewis and Marguerite (Towery) Lewis. He was preceded in death by his brother Douglas Lewis and sister Dixie Cottle. He is survived by his wife of 16 years, Bernadette (Wall) Lewis, and his 5 children: Vikkie Lewis of Toledo, OH, Richard Lewis of Fredericksburg, VA, Emily (Lewis) Moran of San Diego, Steven Nahaj of Berlin Germany, and Kelly Nahaj of Great Mills, Maryland; grandchildren Devin Lewis and Brea Nahaj-Taylor; nephew Douglas "Buddy" Lewis and nieces Karla Stribling and Kelli McCammon.

John joined the United States Navy in 1962, a decision that would forever shape his life. During his uniformed naval career, John held various billets in antisubmarine warfare, research and development, engineering, and a diplomatic assignment in Sicily. He was fluent in Italian and a graduate of the Defense Language Institute, retiring after 20 years of honorable service as a Senior Chief. John spent his free time in the Navy pursuing numerous academic degrees, including a BS from SUNY, a BA from UMD, and a MS in International Studies from ODU. Following his naval service, he earned his Doctorate of Jurisprudence from William and Mary, and did post doctorate work in government contracting at GWU.

John had an illustrious career in law and government. Legal experience includes a two-year internship at NASA and six months at the US Attorney General's Office before joining the Navy Office of General Counsel (OGC) as an attorney. Mr. Lewis filled several assignments within the OGC including Chief Patent Counsel for the Office of Naval Research in London, UK, and Patent Counsel at NAVAIR in Patuxent River. He published numerous articles on international intellectual property rights issues, maintained an active grant surveillance program, and successfully prosecuted the office's only patent application in history. He earned the Meritorious Civilian Service Medal in 1999, and retired from Federal Service in 2003.

John retired to the mountains of Pennsylvania with his wife, where they enjoyed fishing, cooking, cold beers with family and friends, and their beloved "Dottie Dog." He loved politics, debate, watching Steelers football, and relaxing on the porch, surrounded by the forest.

Friends and family will be received at Donald Crawford Funeral Home at 1189 National Pike, Hopwood, PA, on September 9 at 11:00 AM. In lieu of flowers, memorial contributions may be made to Alzheimer's Association (www.alz.org/PA/), Greater Pennsylvania Chapter, 1100 Liberty Avenue Suite E-201 Pittsburgh, PA 15222 and The American Cancer Society (www.Cancer.org).