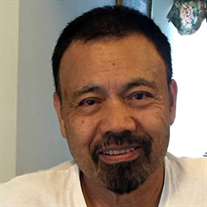 George V. Garlejo, of Bryans Road, MD passed suddenly on August 28, 2017 at the age of 68. He was born in Bacnotan la union, Philippines to Eugenia Valmonte and Eugenio Garlejo.

He joined the US Navy in 1966 in Baguio City, where he served for 22 years and received numerous accolades before retiring in 1989. From there, he moved on to working the front desk at the Comfort Inn (originally known as the Springfield Inn) in Springfield, VA until 2016. When at work, he took charge yet always put the needs of others before himself almost like a second marriage. At home, before and after his retirement, he loved watching sports on TV and making a joke or two at dinner with his family.

George was married to Nora Ferianela Garlejo for 35 wonderful years. In addition to her, he leaves behind three children: Brenda G. Pulido (Agustin), Jonathan G. Garlejo, and Ryan C. Garlejo (Joanne). He also leaves behind brothers Jaime Garlejo and Romeo Garlejo - both currently residing in the Philippines, and two grandchildren in Christian Dimagiba and Aiden Pulido. Arrangements by Lee Funeral Home.