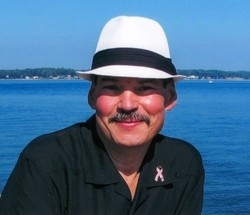 Hilton Garcia Ramos was born to Hilton Garcia Cruz and Gregoria Ramos Garcia on October 24, 1958 in Guayama, Puerto Rico. He moved to New York City in 1962 and resided in the borough of Brooklyn. His first love since his youth was God. From an early age he realized he loved God and served as an altar boy in an act of love to God. This service did not mean that he thought he was better than others, but that he recognized his short comings before God and was thankful to know God still accepted him.

His second love was aircraft. From his early days in Brooklyn he would watch the airplanes flying over his apartment building as they made their way into Kennedy Airport. He graduated from East New York Vocational and Technical High School in 1976 in their aviation program. He attended Brooklyn College for two years before enlisting in the United States Navy in May 1978. He served in the Navy for eight years as an aircraft electrician's mate (AE), three years active duty and five years in the reserves, based out of Patuxent River Navy Base.

After his military obligation, Hilton continued to work at the Naval Air Test Center, Patuxent River, MD. He was part of the F/A-18 A/B program in the early 1980s. Later he was part of development team for the F/A-18 E/F program. In 1984 he began his career in the shielded hangar as an Electromagnetic Compatibility Project engineer which lasted for twenty-one years. In 2005 he moved to the SAIL Branch where he worked until the present.

His most enduring depth-felt love on earth was the love he gave his wife Ruth whom he married on March 24, 1984. They were married for 33 years. He leaves behind his wife Ruth Eileen Garcia, his sons Enrique Garcia (Jennifer) of California, MD, Jesse Garcia of Mechanicsville, MD; his daughters Elisa Garcia of Ocean City, MD, and Daniela Garcia of Mechanicsville, MD; and two beautiful grandchildren Gianna and Scarlett Garcia.

He is survived by his mother Gregoria Ramos from Brooklyn, NY; his brothers Pedro Corcino (Lilly) from Miami, FL, Rene Corcino (Melissa) from Bronx, NY, Andy Sanchez (Cristie) from Ft. Lauderdale, FL, Sammy Colon from Newark, NJ, Hilton Garcia (Joanne) from Effort, PA. He is also survived by his two sisters Gloria Garcia from Raleigh, NC, and Marisol Ortega (Jesus) from Bronx, NY. In addition, he is survived by his nephews: Antonio and Jeremy Corcino; Nicolas, Justin and Rene Corcino; Ryan and Chris Ortega; and his nieces: Nicole Corcino; Gabriela and Brooklyn Sanchez.

In the end, no matter how bad things got or how short he came to God's standard, he never forgot that God loved him and for this, he loved God.

Family will receive friends for Hilton's Life Celebration Visitation on Thursday, August 31, 2017 from 7:00 to 9:00 p.m. at Our Father's House, 45020 Patuxent Beach Road, California, MD 20619. A Funeral Service will be held on Friday, September 1, 2017 at 11:00 a.m., at Our Father's House. Interment will be held on Thursday, September 7, 2017 at 2:30 p.m., at Maryland Veterans Cemetery, 11301 Crain Highway, Cheltenham, MD 20613. Memorial contributions may be made to Care Net Pregnancy Center of Southern Maryland, P.O. Box 31, Lexington Park, MD 20653. Arrangements by the Brinsfield Funeral Home, P.A.