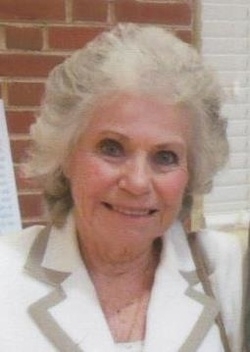 Claire Elaine Dillard, of California, Maryland met the angels on August 23, 2017 after a short but relentless illness. Born on July 16, 1937 in Christchurch, New Zealand she was the daughter of the late Rita Stowell Whyte and Alan Whyte. Claire was the loving and devoted wife of Winston Dillard whom she married on July 28, 2010.

To know Claire was to love her. She and Winston were snow birds and spent winter months in Florida with close friends that considered her family as well. She was a seamstress for various automobile and marine manufacturers in the United States and Australia. She was a vibrant, energetic, tireless, caring person who lived and loved life to its absolute fullest. She was devoted to her family and friends and loved her two Yorkshire terriers. She enjoyed working in her yard and her garden, sewing and knitting blankets and books for babies, working at the food pantry, and doing whatever she could to help anyone in any way she could.

Claire is survived by her husband, Winston Dillard, her siblings Anita (John) Logue of New Zealand, Donald (Jenni) Whyte of New Zealand, Heather (John) Hart of New Zealand, Bernerd (Lynne) Whyte of New Zealand, her beloved nieces and nephews, granddaughter Lauren Hecker, great granddaughter Kinsley Hecker, great grandson Parker Edelen, and many friends that she embraced as family. Many adopted grandchildren will miss their Grandma Claire. She was preceded in death by her parents, her first husband Henry Moorehead, and her grandson Kyle Hecker.

A life celebration service will be held on Sunday, September 17, 2017 at 2:00 p.m., at the Church of the Nazarene in Leonardtown, Maryland with Reverand Paul MacPherson officiating. In lieu of flowers, a donation to the Society for the Prevention of Cruelty to Animals, or any local animal rescue organization, would be appreciated as Claire was a true animal lover and a tireless defender of those that cant speak for themselves. Arrangements by the Brinsfield Funeral Home, P.A.