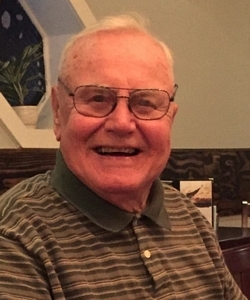 Joseph Timothy Baldwin returned to the Lord on August 25th at the age of 87. He was the son of Josephine and Andrew Baldwin, born in Mt. Rainier MD. Tim joined the Marines in 1948 and served his country during the Korean War. He married Mary McKnew in 1949 and after discharge from the service then became an electrician with IBEW Local 26. Known to all friends and family as Tim, he helped raise 8 children, giving them strong principals.

He is survived by Maria C Winklepleck, Timothy A Baldwin, deceased, Grace M Baldwin, Barbara J Sampson, Maureen S Whisner, Brian B Baldwin, deceased, Gregory T Baldwin and Bruce E Baldwin, 15 grandchildren, 17 great grandchildren and 1 great, great grandchild.

Visitation will be at the Rausch Funeral Home, Port Republic MD, and 5:00 to 8:00 p.m. on August 30, and funeral Mass at St. Francis de Sales in Benedict MD at 10:00 a.m. on August 31. In lieu of flowers, please donate to Calvert Hospice, Merrimac Ct, Prince Frederick, MD 20678. Arrangements by Rausch Funeral Home.