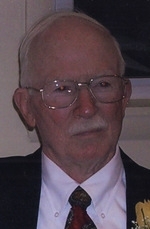 Charles, lovingly known as poppy, passed away on Saturday morning, August 19, 2017 at his home surrounded by his wife and their children. He was preceded in death by his parents Charles Kennedy Norris and Mary Hilda Abell-Norris.

He is survived by his wife Agnes of 62 years, both were lifelong St. Mary's County, MD residents. Charles is survived by their children and spouses; Paul and Suzanne, Frances, Brenda and Sam, Terrie and Pat. Six grandchildren and twelve great grandchildren and his sister Mary Agnes Woodburn of Hollywood, MD. He was preceded in death by his son David Norris.

Charles enlisted in the National Guard during the Korean war for 2 years, then went on to serve active duty in the Army at Fort Bragg, NC in the 82nd Airborne division. While serving in the Army he earned the National Defense Service Medal. He was a lifelong mechanic and locksmith at C.N. Tire in Leonardtown, MD until he closed the shop to work from his home garage.

He was a very soft spoken generous man. He had a soft spot for helping people who often couldn't afford to pay much. Charles loved to garden, feed his wild birds and squirrels from his back deck. He was a collector of all things old and wouldn't dare throw something away, because one day, he would find a need for it again. He was a jack of all trades. If he couldn't fix it, he'd rig it. He was a simple man who liked simple things.

The family will receive friends on Thursday, August 24, 2017 from 5:00 PM-8:00 PM with prayers recited at 7:00 PM in the Mattingley-Gardiner Funeral Home, Leonardtown, MD. A Mass of Christian Burial will be celebrated on Friday, August 25, 2017 at 10:00 AM in St. George Catholic Church with Father Paul Nguyen officiating. Interment will follow in the church cemetery. Arrangements provided by the Mattingley-Gardiner Funeral Home, P.A. Leonardtown, MD.