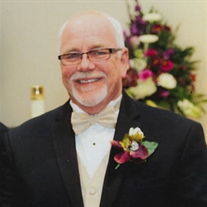 Steven "Steve" Wayne Depoy born on May 24, 1953 of Waldorf, MD died on Friday August 18, 2017 at the Hospice of Charles County after a short battle with cancer. He was surrounded by his wife and children. Originally from Alton, WV Steve joined the U.S. Air Force after high school. He was proud to serve for 22 years before retiring as SMSGT. He continued his career with the DOD, retiring in 2011 as Chief of Plans and Programs with the 844th Communications Group/SCX for Joint Base Andrews.

Steve enjoyed his retirement years in MD and WV playing the guitar, making jewelry, or spending time with family and friends, especially on the river bank in Alton, WV. He was known for his sense of humor, welcoming heart, and always being prepared with military precision.

He will be lovingly remembered by his wife Pamela Shuck Young; his children, Charles Depoy (Melanie Negron), Matthew Delacruz (Melissa), Charles Young, Heather Young, Andrew Young, (Victoria Lehman), and Patrick Young; his grandchildren Madelynn and DC Delacruz, Presley Shaffier, Colton and Scarlett Young; his brothers, Roger Depoy and Bill Depoy (Janet) of WV; and a large, extended family. He is preceded in death by his parents Charles and Betty (Bosley) Depoy.

Viewing will be Thursday, August 24, 2017 from 2-4 pm and 6-8 pm (with prayers at 7 pm) at St. Joseph's Catholic Church Hall in Pomfret, MD. Mass of Christian Burial will be Friday, August 25, 2017 at 11:00 am at St. Joseph's Catholic Church with reception to follow. A private interment will be held on a later date. There will also be a memorial service at the Indian Camp Cemetery in Alton, WV on Saturday, September 2, 2017 at 11:00 am with a reception to follow at the Alton Community Building (Steve's former grade school). Arrangements by Raymond Funeral Service.