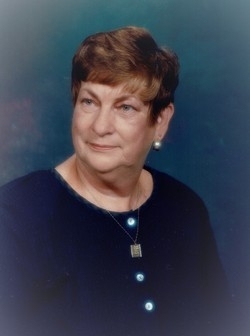 Betty Louise Woodburn, formerly Betty Louise Menser of Hollywood, Maryland died on Tuesday, August 22, 2017 at Chesapeake Shores Nursing Home. She was born on May 4, 1939 in Baltimore, Maryland and was 78 years old. She graduated from Clara Barton Vocational High School, Baltimore, Maryland in 1958. She was member of the Eastern Star and Job's Daughters, Dundalk, Maryland.

Betty married Charles B. Woodburn, Sr. and together they had two children, Charles B. Woodburn, Jr. "Bert" and Robert Wayne Woodburn "Bobby". Betty worked as a nurse at Baltimore City Hospital and as a visiting nurse. She left the nursing profession to be a stay at home mom. She volunteered at St. Johns Elementary School and was a member of the woman's Lions Club of Lexington Park. Betty was a member of Leonardtown Baptist Church where she participated in Bible studies and prayer groups. She loved being a mom and grand mom, traveling and helping others. Betty had a giving heart and a great sense of humor. She will be greatly missed.

Betty is survived by her son, Bert Woodburn and daughter in law, Cindy Woodburn of Louisburg, North Carolina, their children, Joshua Woodburn of Raleigh, North Carolina, Jacob Woodburn of Louisburg of North Carolina, Jessica Woodburn Gale and her husband, Justin Gale of Buies Creek, North Carolina, her son, Bobby Woodburn and daughter in law, Marti Woodburn of the Northern Neck, Virginia, his children, Michael Woodburn of Richmond, Virginia and Taylor Woodburn of Glen Allen, Virginia and was predeceased by her husband, Charles B. Woodburn, Sr, of Hollywood, Maryland, mother, Katherine Menser of Dundalk, Maryland, father, Houston Menser of Dundalk, Maryland and brother, Kenneth Menser of Salisbury, Maryland.

A Visitation will be held on Monday, August 28, 2017 from 10:00 to 11:00 a.m. with a Memorial Service at 11:00 a.m. at Leonardtown Baptist Church, 23520 Hollywood Road, Leonardtown, MD 20650. Interment will follow at Charles Memorial Gardens, 26325 Point Lookout Road, Leonardtown, MD. Arrangements by the Brinsfield Funeral Home, P.A.