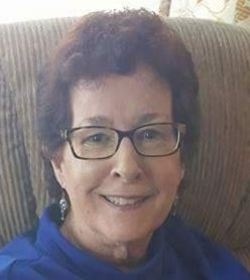 Barbara Sherrick Ellis Grubaugh, 75, of Mechanicsville, MD passed away on August 18, 2017 at her home surrounded by her loving family. Barbara was born on November 29, 1941 in Kodiak, Alaska to the late Ward H. Ellis and the late Jean Barbara Shaw Ellis.

Her family was her greatest joy and she loved spending time with them anytime she could. Barbara enjoyed watching the finches, hummingbirds, and other birds that would come to the feeders in her backyard. Rabbits were another love of Barbara's and she collected several items related to her little fury friends. One of Barbara's favorite things to do was to have English tea with her group of friends that were all natives of Great Britain. Though she was born in the United States, it was easy to see that she may have secretly wished she would have been born a Brit. Barbara was a devoted wife, mother, grandmother, homemaker, and friend.

Barbara is survived by her husband of 52 years, Thomas Anthony Grubaugh, her daughter, Heather Jean Easley (Gary), her son, Christopher Ward Grubaugh (Pamela), her twin sister, Jean Koch (Pete), grandchildren; Brandon, Hunter, Ella, and Lena. She also leaves behind many nieces, nephews, and cousins located in Virginia, Illinois, and California.

All services are private. Memorial contributions in Barbara's name may be made to: Hospice of St. Mary's, P.O. Box 625, Leonardtown, MD 20650 or to the Mechanicsville Volunteer Rescue Squad, P.O. Box 15, Mechanicsville, MD 20659. Arrangements by Brinsfield Funeral Home.