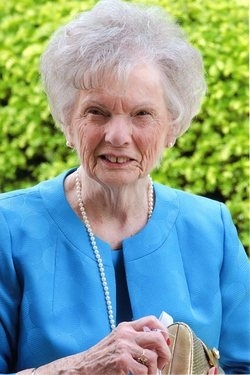 Sarah Ann Johnston, 91, of Leonardtown, MD formerly of Virginia passed away Friday, August 18, 2017 at St. Mary's Nursing Center in Leonardtown, MD surrounded by her loving family. She was born on April 25, 1926 in New York City, NY to the late James Clifford and Sarah Quinn Clifford.

On September 15, 1946 Sarah married her beloved husband, George Andrew Johnston at Sacred Heart Catholic Church in New York City. Together they celebrated over 50 wonderful years of marriage before his passing in 1996. Sarah Ann was employed as a senior clerk with the New York State Liquor Authority until her retirement in 1981. Her family was Sarah Ann's greatest love and she enjoyed spending her time with them. She was a Girl Scout volunteer for many years in NYC, while her children where young. She later returned to Girl Scouts while residing in Wichita, KS. She was an avid reader and enjoyed music and dancing. Upon retiring to Jacksonville, Florida, Sarah Ann and George enjoyed serving as a Eucharistic Ministers together.

Sarah Ann is survived by her children: Sarah Ann "Sally" Dressel (John) of California, MD, George Andrew Johnston (Nancy) of Solon, OH, and Bridget Ann Alt (Charles) of Chesapeake, VA; her sisters, Mary Donovan of Branfield, CT and Margaret Maerkle of Smithtown, NY; her grandchildren: John "Andrew" Dressel, Sarah Ann Dressel- Amie (David), Kristen Johnston, George Johnston (Jill), Kathryn Johnston Trivelli (John), James Johnston, Ellen Alt and Charles Alt; her great granddaughter, Lindsay Dressel; and many extended family and friends. In addition to her parents and husband, Sarah is also preceded in death by her siblings, Gertrude Halpin, Eleanor Boddy, John Clifford, Charles Clifford, Patrick Clifford, William Clifford, and James Clifford.

Family will receive friends on Saturday, September 2, 2017 from 10:00 to 11:00 a.m. with a Memorial Service celebrated by Revered David Beaubien at 11:00 a.m., at St. Aloysius Catholic Church, 22800 Washington Street, Leonardtown, MD 20650. Interment will be held at a later date at St. Columbia Catholic Cemetery in Middletown, RI. Memorial contributions may be made to St. Mary's Nursing Center, Inc., 21585 Peabody St., Leonardtown, MD 20650 and the Alzheimer's Association, 3701 Pender Drive, Suite 400, Fairfax, VA 22030. Arrangements by the Brinsfield Funeral Home, P.A.