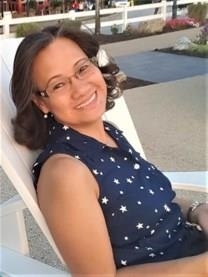 Anelyn Lusanea Ropisan, 58, of Waldorf, Maryland, formerly of Los Baños, Laguna, Philippines passed away peacefully at home in Waldorf on August 17, 2017 surrounded by her family and friends.

Anelyn, or as her family and friends called her, Annie, was born in Los Baños, Laguna, Philippines to Juan and Rosalinda Lusanea on April 30, 1959. She went to high school at University of the Philippines Rural High School and graduated in 1976. She studied at Trinity College of Quezon City and went on the earn her degree in Nursing at St. Luke's College of Nursing in 1980. She went on to apply for a Nursing position in the United States of America where she has worked as a nurse in Washington D.C., Maryland, and Virginia for over 30 years.

Upon arriving to the United States, she met her husband, Rico Ropisan, and were married December 29, 1984 at St. Theresa Catholic Church in Kekaha, Hawaii. Together they lovingly raised two sons, Adrian and Patrick, in their home in Waldorf, Maryland. She enjoyed cooking, picnics, traveling, line dancing, and fishing her entire life. She was known for her devotion not only to her family, but to her devotion to the Sacred Heart of Jesus and the Virgin Mother Mary, as evident through her work in the Cenacle family prayer group at St. Peter's Catholic Church, of which she was a founding member over 25 years ago.

Anelyn is preceded in death by her mother, Rosalinda Martinez Lusanea and brother-in-law Rosito Melanio. Anelyn is survived by her husband, Rico Ropisan of Waldorf; son Patrick Ropisan of Odenton; son AJ Ropisan and daugher-in-law Mary-Bernadette Ropisan of Odenton; her father Juan Del Carmen Lusanea of Los Baños, Laguna, Philippines; sister Jocelyn and brother-in-law Edwin Tababa, nieces and nephew, Erin, Erica, and Edric Tababa of Los Baños; sister Arlyn Melanio, nephew Andre Melanio and grand niece Midori Melanio of Los Baños; niece Jeni Esperat and nephew-in-law Yubs Esperat, grand nephew Aslan Esperat of Los Baños; brother Lyndon Lusanea of Los Baños; brother Lynneus Lusanea and nieces Eunice and Eugine of Los Baños; mother-in-law Aurora Austria of Waldorf; brother-in-law Noel Austria, brother-in-law Ariel and sister-in-law Connie Austria, niece and nephew Shannon and Aaron.

Visitation will be held at Huntt Funeral Home in Waldorf, Maryland on August 23, 2017 from 5:00pm to 8:00pm. Funeral service will be held at St. Peter's Catholic Church on August 24, 2017 at 10:00am with Father Dan Leary of Saint Andrew Apostle Catholic Church officiating. Burial will follow at St. Peter Parish Cemetery. Arrangements by Huntt Funeral Home.

The family wishes to extend their gratitude for the excellent care to Medstar Washington Hospital Center and Dr. Boyce and his medical team, the staff of 4C, especially the nurses who cared for Annie, and the pastoral care chaplains, who gave Annie Holy Communion every day during her hospitalization. Thank you to the Hospice of Charles County for their support in her final days. Additionally, thank you to Father Cezary Kozubek from St. Peter's Catholic Church of Waldorf, Maryland, Father Alain Colliou from Our Lady Help of Christians Catholic Church of Waldorf, Maryland, and Father Dan Leary from Saint Andrew Apostle Catholic Church of Silver Spring, Maryland for their prayers and time. Finally, thank you to all our family and friends for their continuing support, prayers, and love through this difficult time. God bless.