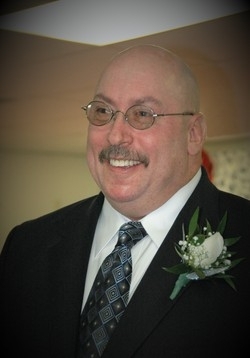 William Wayne "Wild Bill" "Bluewolf" Johnston passed away on Aug 13, 2017 from complications of COPD and diabetes at his home, with his loving wife, Barbara, at his side. Bill was born October 3, 1953 in Hopewell, VA to the late William Atkins Johnston and Edith Inez Brooks Johnston.

In addition to his beloved wife, Barbara, Bill is also survived by his sons & daughters: James A Johnston of Savage, MD; Jessie Sylvestre (Dan) of Maplewood, MN; Laura L. Burrows (Brad Atkins) of Arnettsville, WV; Krystal M. Ratliff (Josh) of Dublin, TX; Christopher L. Gordon (Jessica) of Spotsylvania, VA; David W. Gordon (Susan) of Cocoa, FL; Robert S. Gordon of Raleigh-Durham, NC; 8 grandchildren – Mackenzie, Amber, Julie, Kayla, Travis, Vincent, Emmalynn, and Zayda; and many extended family and friends. In addition to his parents, he is also preceded in death by his brother, Richard Atkins Johnston and his niece, Angela Johnston Schuester.

Born in Hopewell, VA he had a soft spot in his heart for New Orleans, and settled in St. Mary's county over 30 years ago. Bill served 20 years in the Navy, and retired as a PO2 and a Viet Nam Veteran after making 15 trips to Viet Nam. He had 15 years as a government contractor starting out as a Substance Abuse Counselor, became a Director in that field, and after numerous other careers was a Motor Cycle Safety Instructor when his declining health forced him to retire in 2013. Bill had 33 years of continuous sobriety and was very active in Alcoholics Anonymous. He was involved in the origination of Rolling Thunder and attended every year up to the 25th Anniversary Ride before his health required him to step back and pay tribute from home in his recliner. For Bill the most important things in his life were sobriety, God, and family.

Family will receive friends for Bill's Life Celebration on Saturday, August 19, 2017 from 2:00 to 5:00 p.m., with a Funeral Service at 4:00 p.m., at Brinsfield Funeral Home, P.A., 22955 Hollywood Road, Leonardtown, MD 20650. Interment will follow at Arlington National Cemetery at a later date. Memorial contributions may be made to Lexington Post Volunteer Rescue Squad, P.O. Box 339, Lexington Park, MD 20653. Arrangements by the Brinsfield Funeral Home, P.A.