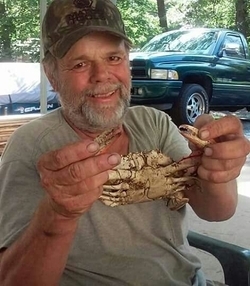 Jerry Howard "Hal" Norris, 62, of Lexington Park, MD passed away Wednesday, August 9, 2017 at Chesapeake Shores Nursing Center surrounded by his loving family. Jerry was born on September 15, 1954 in Leonardtown, MD to the late Thomas Clarence "Pete" Norris and Patricia Ann Greene Norris.

Hal was born and raised in Ridge, MD. On July 24, 1982, he married his beloved wife, Lynette Ann Thornton Norris in Pasadena, TX. Together they celebrated over 35 wonderful years of marriage. He spent his entire career working as a skilled carpenter and a master of all trades. He found great peace and happiness when he was on the water, and he particularly enjoyed spending time boating, fishing, and crabbing. He also enjoyed hunting. He was proficient in car repairs and loved riding his motorcycle. His family was his top priority and he enjoyed spending time with them as much as possible. He loved spending time with all children and soon became their best friend.

In addition to his beloved wife, Lynette, Hal is also survived by daughters, Melissa Norris of Hughesville, MD and Angela Norris of Saginaw, MI; his siblings: Randy Norris (Teresa) of Hughesville, MD, Sharon Purcell (Joe) of Ridge, MD, and Brian Norris (Kim) of Leonardtown, MD; special friends who were like brothers, Johnny Foote (Marion) of Lexington Park, MD and Mark Richardson (Cheria) of Lexington Park, MD; like his son, John (Bucky) Foote (Tracy) of Drayden, MD; and many extended family and friends. In addition to his parents, he is also preceded in death by his sister, Nancy Thompson. All services will be private. Arrangements by the Brinsfield Funeral Home, P.A.