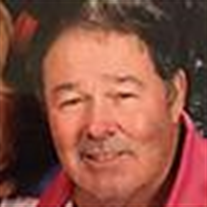 James "Jimmy" Ronald Simonds Sr., 68, of Dunkirk, MD passed away on Thursday, August 10, 2017 at home surrounded by his loving family. He was born on January 16, 1949 in Washington, DC to Jenny (Russo) and Gilbert A. Simonds. Jimmy was the beloved husband of Betty D. (Landis) Simonds. They celebrated their 51st wedding anniversary in June 2017.Along with his wife, he is survived by his children Sharon Cummins (Robert) and James "Ronnie" Simonds, grandchildren Bobby, J.C. and Allyson. He was the brother of Billy, Jackie, Joanne and the late Buddy, Mary and Vita.

Jimmy was employed with WSSC and retired in 1995 after 27 years of service. For many years he was a basketball official with MBOA. He was an avid golfer and in 2015, he became a "snowbird" moving to Florida to pursue his passion of golf. He also enjoyed playing cards, fishing and watching the Washington sports teams, especially the Redskins.

Family invites friends to Lee Funeral Home Calvert, 8200 Jennifer Lane, Owings, MD 20736, on Tuesday, August 15 from 10 am until start of Funeral Services at 12 pm. Interment will follow at Southern Memorial Gardens, 10155 Ward Road, Dunkirk, MD 20754. In lieu of flowers, memorial contributions may be made to the Chesapeake Church Food Pantry, 6201 Solomons Island Road, Huntingtown, MD 20639. Arrangements by Lee Funeral Home.