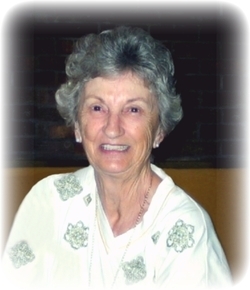 Garnette Lamm Gleaves, 84, of Great Mills, MD (Hixson, TN), passed away on August 7, 2017 at her home surrounded by her loving family. She was born on November 28, 1932 in Kenly, NC to the late Joseph K. Lamm and Fannie Grice. On October 17, 1959 she married her beloved husband, William H. Gleaves in North Augusta, SC. Together they celebrated over 47 wonderful years of marriage before his passing in 2007.

She was an avid reader, enjoyed flower gardening, and was an excellent cook, with southern cuisine being her specialty. She enjoyed drinking coffee and eating chocolate. However, her greatest love was spending time with her family, whom she enjoyed being with. She was a member of Chattanooga Tennis and Racket Club, Newcomers Bowling League, Central Baptist Church in Hixson, TN and Southern Calvert Baptist Church, Lusby, MD.

Garnette is survived by her daughters, Shannon Murphy Buck (Rick) of Hendersonville, NC and Sherry Gleaves Harris (Rich) of Great Mills, MD; her grandchildren, Hillary Buck, Emily Harris, and Samuel Harris; her great granddaughter, Abigail Buck; and many extended family and friends. In addition to her parents and husband, she is also preceded in death by her siblings, Russell K. Lamm, Joseph K. Lamm, Edna Earle Hinnant and Mary Elizabeth Vann.

Family will receive on Saturday, August 8, 2017 from 10:30 to 11:00 a.m., with a Funeral Service celebrated by Pastor Steve Furman at 11:00 a.m., at Southern Calvert Baptist Church, 12140 H.G. Trueman Road, Lusby, MD 20657. Entombment will be held Monday, August 21, 2017 at 11:00 a.m. at Hamilton Memorial Gardens, Hixson, TN 37343. Memorial contributions may be made to Lexington Park Volunteer Rescue Squad, P.O. Box 339, Lexington Park, MD 20653 and Shop with a Cop, Inc., P.O. Box 2336, Leonardtown, MD 20650. Arrangements by the Brinsfield Funeral Home, P.A.