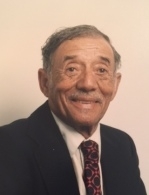 Philip was born August 8, 1921 to the late Louis and Mary (Marshall) Thomas in Compton, Maryland. He was affectionately known as "Phil" or the "Mayor of Chaptico". He was educated in the St. Mary's Public School system. He continued his education and earned multiple honorary life degrees in farming, construction, integrity, honesty, faith and love. On October 26, 1947, he married the love of his life, the late Rose Wilson. From this union they had 11 children, 12 grandchildren, 13 great-grandchildren and one great great-grandchild.

Philip was very humble, pleasant, soft-spoken, laid back, funny, joyful, happy, wonderful, caring, loving, giving, honest, remarkable provider and the list goes on. He was God's Angel on earth. Philip loved attending Our Lady of the Wayside Church in Chaptico, and helping with various church functions to include the annual Church Festivals. He never missed a weekly Mass!

Philip was a hard worker. He worked two full time jobs. He worked numerous years as a Farmer and Construction Worker in Washington, DC with Local #657 and #456. In addition to being a Farmer and Construction Worker, he was a wonderful Husband, Father, Grandfather, Uncle, Brother and Friend. He instilled love and fine qualities in each of us. In Philip's spare time, he loved visiting with friends and family, sitting under his maple trees, listening to music, dancing, and watching his favorite television show "Sanford and Son".

The family will receive friends on Thursday, August 10, 2017 from 10:00 AM to 11:00 AM in St. Joseph's Catholic Church, Morganza, MD. Where a Mass of Christian Burial will be celebrated at 11:00 AM with Father Michal Sajnog officiating. Interment will follow in Queen of Peace Catholic Cemetery, Helen, MD. Pallbearers will be: Bill Brown, John Walter Thomas, David Thomas, Louis Thomas, Jr., Robert Thomas, and David Young. Honorary Pallbearers will be: Charles Barnes, Chris Thomas, Joseph Berry and John Wilson. Arrangements by Mattingley-Gardiner Funeral Home.