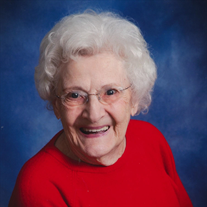 Marion Ruth Celia Lanham, age 94, of Waldorf, MD passed away peacefully at her home on 4 August 2017. She was a member of St. Paul's Episcopal Church in Waldorf. Born in Rochester, NY on February 20, 1923 she was the daughter of the late Matthew Thomas Steckel and the late Amollia Elise Thomas. She graduated from Madison High School in 1941. Marion worked at Bausch & Lomb Optical Company in Rochester, NY making binoculars for the Navy during WWII. After her husband's passing in order to spend more time with the children she worked in a school cafeteria in Oxon Hill and then at Vincent & Vincent Hair Salon.

Marion will always be remembered for her kind heart and beautiful smile. She loved doing puzzles, reading mystery books, watching Murder She Wrote and Perry Mason on TV, knitting, snacking on M&M's and wearing high-heel shoes, especially her white high-heel tennis shoes which she wore on the homeless walk in La Plata, MD.

In addition to her parents, she is preceded in death by her husband Robert Manuel Lanham, son John Leslie Lanham, brothers Matthew Thomas Steckel and John Warren Steckel. She is survived by her son Robert Allen Lanham and his wife Robin, sister June Cecila McCall, 10 grandchildren and 14 great-grandchildren.

Visitation will be on Friday, August 11, 2017 from 10:00AM until time of service at 11:00AM at St. Paul's Episcopal Church, 4535 Piney Church Road, Waldorf, MD 20604, and interment to follow in the church cemetery. In lieu of flowers, memorial contributions may be made to St. Paul's Episcopal Church Memorial Fund, 4535 Piney Church Road, Waldorf, MD 20604. Arrangements by Raymond Funeral Service.