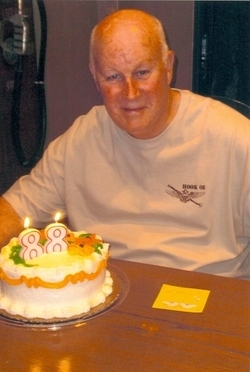 Wallace "Wally" Randolph Beamer, 96, of California, MD passed away on July 28, 2017 at Calvert Memorial Hospital in Prince Frederick, MD. Wally was born to the late Andrew Cerrell Beamer and the late Lena Beamer Dodd in Vienna, VA on May 18, 1921.

Like many in his generation, Wally willingly enlisted in the military and served in the U.S. Navy during World War II. During his time in the service, Wally served aboard the USS Reuben James (DE-153), USS Philadelphia (CL-41), USS Merak (AF-21), USS Randolph (CV-15) and the USS Midway (CVB-41). He performed anti-submarine duty in the North and South Atlantic and the Mediterranean Sea. Wally aided in efforts to shoot down German Junkers 88 aircraft and sunk one German U-boat along the North Atlantic. He received six service medals during his time in the Navy.

Aside from sharing wartime stories, Wally's most enjoyable pastimes included spending time with family and friends, watching various sports games on television, singing karaoke and picking his daily lottery numbers. Since 1937, Wally was a lifetime Washington Redskins fan. He enjoyed many seasons at RFK and FedEx Field stadiums and traveled near and far to cheer on his beloved skins.

Many remember Wally for his genuine gentle-nature, his love for his family and his mental sharpness even in the advanced stages of his life. He spoke to the lord every day, although you wouldn't find him in a church very often. Wally lived by three philosophies all his life: "Don't dwell on things you don't have control over," "You do what you have to," "Age is just a number. Your true age is in your heart. Be Young at heart."

In addition to his parents, Wally was predeceased by his brothers, Luke, Philip, Rex, Morris and Alvin Beamer; sisters, Betty L. Beamer, Nancy Beamer Hardesty and Dorothy Dodd Gonzales. He is survived by his loving wife, Maryjane Beamer of California, MD; sons, Scott P. Beamer of Ooltewah, TN; Terry T. Beamer of Odessa, FL; daughter, Judy L. Sargent of Mechanicsville, MD; grandchildren, Jason C. Wagner, Jacob S. Beamer, Tara N. Strickland, Lindsey R. Godwin, Blaire K. Beamer, Bryce A. Beamer; great grandchildren, Wyatt Beamer and Ruby Lynn Strickland.

Family will receive friends for Wally's Life Celebration Gathering on Saturday, August 5, 2017 from 2-3pm with a Memorial Service at 3pm at Brinsfield-Echols Funeral Home, 30195 Three Notch Road, Charlotte Hall, MD 20622. Entombment at Arlington National Cemetery at a later date. In lieu of flowers, memorial donations may be made in Wallace Randolph Beamer's honor to: Charlotte Hall Veterans Home, 29449 Charlotte Hall Road, Charlotte Hall, MD 20622 or The Alzheimer's Association, P.O. Box 1889, La Plata, MD 20646. Arrangements by Brinsfield-Echols Funeral Home.