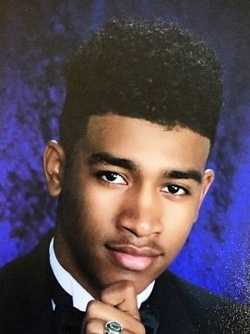 Giovany Antonio "Gio" Queirolo Jr., 20, of Lusby, MD passed away on July 31, 2017 at his residence. Born February 5, 1997 in Fairfax, VA, he was the son of Quanda Nichols and Giovany Queirolo, Sr. Gio graduated from Patuxent High School in 2016. He was married to Dominique (DeVille) Queirolo on June 12, 2017.

Gio is survived by his wife, Dominique Queirolo; his mother, Quanda Nichols of Lusby, MD; his father Giovany A. Queirolo, Sr. and step-mother, Jessica Velez of Lusby, MD; his brother, Gaberelle Queirolo of Lusby, MD; step-sisters, Jamira Brice and Cevannah Coleman of Edgewood, MD and Layla Stukes of Lusby, MD; his paternal grandparents, Giovany V. and Elaina Queirolo of FL; maternal grandmother, Yolunda Goodwin and step-grandfather, David Goodwin of VA; aunts, Diana and Hedi Queirolo of FL; uncles, Keith Chambliss of VA and Saul Montoya, Sr. of FL; first cousins, Saul Montoya, Jr., Grayson and Payton Ackerman of FL, and Saquan Fitzgerald of VA; mother and father-in-law, Carrie and David DeVille of Lusby, MD; his sister-in-law, Danielle DeVille of Laurel, MD; and a host of great aunts, uncles and cousins. He was preceded in death by his maternal grandfather, James Nichols.

Family will receive friends on Saturday, August 5, 2017 from 11:00 a.m. until 1:00 p.m. with a funeral service to follow at 1:00 p.m. at Rausch Funeral Home, 20 American Lane, Lusby, MD 20657. Interment will be private. Immediately following the service, the repass will be held at St. Leonard Firehouse located at 200 Calvert Beach Road, St. Leonard, MD 20685. Memorial contributions may be made to the Johns Hopkins Kimmel Cancer Center, Fund for Osteosarcoma Disease, 750 E. Pratt Street, Suite 1700, Baltimore, MD 21202. Arrangements by Rausch Funeral Home.