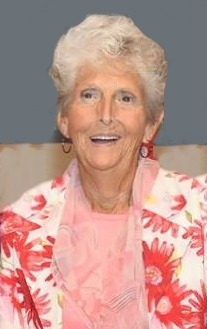 Clara Mae Buckmaster, 80, of Chesapeake Beach passed away peacefully July 30, 2017 at her home, surrounded by family. She was born February 24, 1937 in North Beach to James Wallace and Sadie Ellen Stallings. Clara Mae attended Calvert High School and was employed as a receptionist with the Calvert County Health Department. She married James Edward Buckmaster on June 3, 1955. He passed away suddenly in 1970, leaving Clara Mae to raise their six children, which was her greatest accomplishment in life.

She was a prominent figure in Calvert County and was a member of Calvert County Little League, Democratic Club, Cardiac Society, Parks and Rec, North Beach Town Council and the Bayside History Museum. She was also a member of the North Beach V.F.D. Auxiliary, where she held several offices, the Southern Maryland Ladies Auxiliary and Maryland Fireman's Association Auxiliary, where she held every position including president, and the American Legion Post 206. She was also a founding member of the Boys and Girls Club and an ordained minister. When Clara Mae wasn't volunteering and helping others, she enjoyed watching the Nationals, Redskins and the wildlife outside. Clara Mae was a friend to all and mother to many and will be greatly missed.

She was preceded in death by her husband, James and sister Cindy Stallings. Clara Mae is survived by her children Eddie Buckmaster (Lori) of Owings, David Buckmaster of Orlando, FL, Diana Buckmaster (Dickie) of Owings, Tammy O'Conner (Paul) of Chesapeake Beach, Linda Foster (Mike) of Chesapeake Beach, and Lois Taylor (Jimmy) of Owings. Also surviving are grandchildren Rachael Little (Jarrod), James Buckmaster III (Lauren), James (Marcy) and Melissa Wahl, and Billy and Eric Buckmaster, great-grandchildren Brandon and Ethan Little and Parker and Paxton Wahl, brothers Morris Stallings (Mary) and Gerald Stallings (Margie), her grand dog Jackson and numerous nieces and nephews. Arrangements by Rausch Funeral Home.