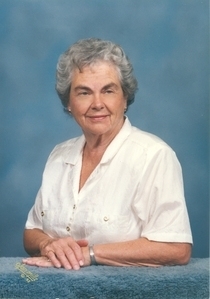 Lois Elizabeth Garner Simpson, 91, of La Plata, MD died on Thursday, July 27, 2017 at Sagepoint Senior Living Services in La Plata, MD. She was born in Naylor, MD on July 25, 1926 the eldest child of William A. and Elizabeth B. Garner. She grew up in Croom, MD, on the family farm with her sister, Winnie (Bowling) (deceased), and brothers, Billy (William) and Buddy (Bourne).

Lois graduated from Upper Marlboro High School and received her nursing degree from Union Memorial Hospital School of Nursing in Baltimore, MD. Her first job brought her to Charles County where she was a registered nurse at the original Physicians Memorial Hospital in La Plata, now the Irene Davis Pavilion. She also worked for many years at Jarboe Clinic in La Plata, with Dr. Arthur Wooddy.

Lois is predeceased by her husband, Robert (Bobby) S. Simpson. She is survived by her children; Robert S. Simpson, Jr. (Theresa), Annie Sutten (Jeff), Claire Mower (David Ballard) and seven grandchildren; Jesse Sutten, Brent Sutten, Brandon Simpson, Kyle Mower, Kelcie Simpson, Lauren Sutten and Glen Mower.

Visitation will be held on Saturday, August 5, 2017 from 9:30AM to 11AM at Christ Episcopal Church, 110 East Charles St., La Plata, MD where a Funeral Service will begin at 11AM. Interment to follow Service in Mt. Rest Cemetery. In lieu of flowers, memorial donations may be made to The Lois Simpson Memorial Nursing Scholarship Fund at the College of Southern Maryland, c/o CSM Foundation, PO Box 910, LaPlata, MD 20646. Arrangements by Arehart-Echols Funeral Home.