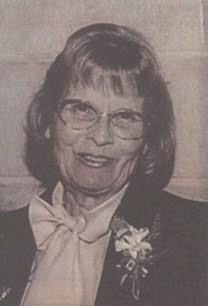 Lelia Marie McCaughey slipped the bonds of this world to begin her new adventure on July 18, 2017. Marie was born November 8, 1926 in Washington Springs, Florida. She was a native of Florida and spent most of life with Johnny McCaughey, her loving husband of 61 years, in Jacksonville, Florida. She was the daughter of the late Amy Inez and Arthur Madison Thomas. Marie is predeceased in death by her mother and father, sister Maxie Jane Thomas, son Wayne David McCaughey, brother Jesse Reamer Thomas and husband Johnny Owen McCaughey.

She is survived by her loving two sons Thomas O. McCaughey (Sandra) and Gevan C. McCaughey (Debbie), brother Arl Madison Thomas (Gail), four grandchildren and six great grandchildren, Laurie Cox Spangle (Bradley and Emily Cox), Amanda McCaughey Hollis (Rose and Cora Szymanski), Ashley Swarthout (Landon and Gilliane Swarthout), and Abigail McCaughey. She is also survived by numerous nieces, nephews, and grown neighborhood children from Jacksonville who viewed her as their second mother.

Marie was an excellent seamstress and enjoyed making her own clothes. In her younger years she and Johnny were great socializers and loved evenings out with friends and spent many a night dancing the evenings away at the VFW and American Legion posts. She and her good friend, Claire Barnes, enjoyed days at the beach in the Florida sun with all the kids. In addition to Claire, she had many friends that she remained very close to throughout their lives. She loved growing violets and the front porch and hallway shelves were often covered with a variety of beautiful blooms. Despite the many hard times and economic challenges through the years she thoroughly enjoyed life and along with husband Johnny made sure the family always had enough.

A memorial service to celebrate her life will be held on August 5th at 10:00 am in the Chapel at the Hardage-Giddens Greenlawn Funeral Home located at 4300 Beach Blvd., Jacksonville, Florida 32207.