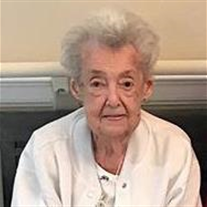 Mildred C. Peaire, age 95, of Waldorf, MD passed away on July 27, 2017 at the Hospice of Charles County, MD. Mildred was born in Damascus, MD on October 16, 1921, the daughter of the late Louis and Carrie Sasser Henley. In 1940, she married Victor W. Peaire. They made their home in Hillside, MD where they raised their two daughters. In 1996 they moved to Waldorf, MD. Mildred was a homemaker who enjoyed family activities, embroidery crafts, poker and bingo. She was a devoted Redskins and Nationals fan.

Mildred is survived by her daughter Barbara A. Crosby (Patrick) of Berkeley Springs WV, son-in-law Thomas E. Brinkley of Port Republic MD, granddaughters Colleen Crosby (Scottsdale AZ), Jennifer Sparks (Leesburg VA) , Erin Mareck (Salisbury MD) and Carrie Ripple (Huntingtown MD), six great-granddaughters and several nieces and nephews. She was preceded in death by her husband, Victor, her daughter Lynn I. Brinkley, her sisters Agnes Phillips and Lillian Kerby and her brother Louis Henley.

Funeral Services will be held on Tuesday, August 8 at 12 noon at Lee Funeral Home, Inc. 6633 Old Alexandria Ferry Road, Clinton MD. Friends may call from 10:30 am until time of the service. Interment will be at Maryland Veterans Cemetery, Cheltenham, MD at 1:00 pm. In lieu of flowers, donations may be made to the Hospice of Charles County, Inc., 2505 Davis Road, Waldorf MD 20603. Arrangements by Lee Funeral Home.