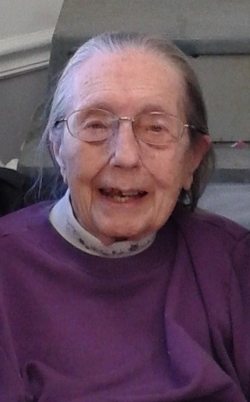 Ellen P. Blair, 93, of Owings passed away July 27, 2017 at Calvert County Nursing Center. She was born August 13, 1923 in Washington, D.C. to William H. and Mildred (Keith) Preston. She was the oldest of seven and she was always responsible for her brothers and sisters, trying to keep them out of trouble. She married William Blair in the late 40's and they lived in Frederick, Huntingtown and Owings, before moving to Lower Marlboro, where she has lived for the past 52 years.

She was a member of Smithville United Methodist Church in Dunkirk, where she played the organ for almost 60 years. She also played at Lower Marlboro and occasionally Mt. Harmony when they were on the Smithville Circuit. Ellen was primarily a homemaker and she briefly worked for the War Department, now Department of Defense, in D.C. She enjoyed gardening, canning and was known for her great jam and loving smile. She took care of her son, John throughout his surgeries from cancer and cerebral palsy. Ellen was loved by the residents and staff at Calvert Nursing Center, and will be greatly missed.

She was preceded in death by her husband, William, a daughter Margaret K. Blair and siblings Henrietta Preston, Alice Bowers, Linda Ferguson and Frank and Steven Preston. Ellen is survived by sons John R. Blair of Springfield, VA, Thomas H. Blair and wife Barbara of York, PA, and Roy R. Blair and wife Lin Yan Ping of Chesapeake, VA. Also surviving are a brother William Preston, Jr. of Bowie and grandson Robert S. Blair. Arrangements by Rausch Funeral Home.