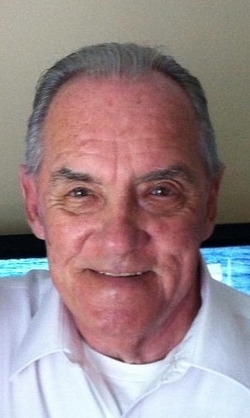 James William "Robie" Robison originally from Harrisburg, PA passed away Wednesday July 26, 2017 at his son's home in Saint Leonard, MD. He was surrounded by family and friends at the time of his passing. James, known by most as Robie, is survived by his wife of 56 years, Barbara Jean Robison (Shegogue) originally from Bowie, MD, daughter Robin Marie Saul (Robison) of Charlestown, WV and her husband Ron Saul, son James Anthony Robison and his wife Diane of Saint Leonard. Robie was blessed with three Grand-Children, Lauren Elizabeth Robison of Saint, Leonard, James Ryan Robison of Saint Leonard and Evan Zacary Robison of Charlestown, WV.

Robie played trombone and trumpet for many years with a number of known musicians and bands. One of the most notable artists was Charlie Daniels. Both he and Charlie played in a band call The Jaguars. His musical resume grew to include two other bands: The Saxton's and The Imperials. His infamous musical talent was also paired with Lloyd Price, Jimmy Dean, Danny Gatton and the Washington Redskins Band.

Robie worked most of his career as an Engineer and when he retired moved to Leonardtown, MD. Robie and Barbara were very active at Saint George's Catholic Church in Valley Lee, MD. He will be greatly missed by all that knew him but thanks to his incredible musical talent, his sound will live on forever. We also request that in lieu of flowers, that donation's be made to The St. Jude Children's Hospital in Memphis, TN. Arrangements by Rausch Funeral Home.