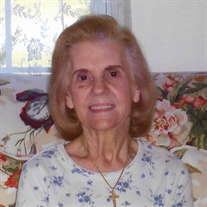 Ellen Marie Abelende of Dunkirk, MD passed away peacefully at home on Wednesday, July 26, 2017 at the age of 79. She was born on December 28, 1937, in Newark, NJ to Elizabeth(Teare) and Edward Smith. Ellen was a loving mother and grandmother who enjoyed raising her family. She loved playing bingo, music, dancing and she was a huge Washington Nationals and Redskins fan.

She was the beloved wife of the late Venancio P. Abelende and the loving mother of Armando Abelende (Janet), Ellen M. Fernandes (Marc), Venancio P. Abelende, Jr., Edward F. Abelende (Christine), Esmee Lavinia Hoyle, John V. Abelende (Clarissa) and Carlos P. Abelende (Theresa). She was the devoted grandmother of 10 grandchildren and four great-grandchildren. She was preceded in death by a daughter Elizabeth and a granddaughter Christina.

Family invites friends to Lee Funeral Home Calvert, 8200 Jennifer Lane, Owings, MD 20736, on Monday, July 31 from 4 to 8 pm. A Mass of Christian Burial will be celebrated at St. Anthony's Catholic Church, 8816 Chesapeake Avenue, North Beach, MD 20714, on Tuesday, August 1 at 10:30 am. Interment will follow at Resurrection Cemetery, Woodyard Road, Clinton, MD 20735. Memorial contributions may be made in Ellen's memory to the Alzheimer's Association, National Capital Area Chapter, 3701 Pender Drive, Suite 400, Fairfax, VA 22030 or Calvert Hospice, P O Box 838, Prince Frederick, MD 20678. Arrangements by Lee Funeral Home.