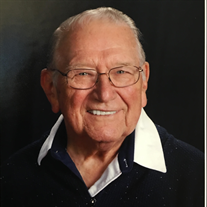 Albert Benjamin Gryskewicz Sr., 92, of Prince Frederick, MD passed away with his loving family by his side on Wednesday, July 26, 2017. He was born on August 6, 1924 in Plymouth, PA to the late Benjamin John and Helen (Jago) Gryskewicz.

Albert, fondly known as "Al," joined the U.S. Navy just two weeks out of high school and then spent the next three years in several major WWII battles. He served on the USS Hambleton (DD455) as a Fire Controlman in the Invasion of Normandy (D-Day), Bombardment of Cherbourg, Invasion of Southern France, and Invasion of numerous islands and Okinawa. During all this conflict, the USS Hambleton survived numerous torpedo hits, a kamikaze hit and she rode out four typhoons with 60-foot waves.

After his Naval service, Al received his Funeral Director's license from the American Academy of Embalming and Mortuary Science, New York City, NY. After working for a period of time in the funeral business, he moved to Washington, DC and joined the C&P Telephone Company, where he worked his way from a Lineman to a Foreman/Supervisor. After 35 years of service, he retired and began a new trade making and designing prosthetics for the next several years.

In 1950, Al married his bride of 67 years, Susan (Matisko) Gryskewicz. "Pop" loved his family more than anything! He was predeceased by his son Albert Benjamin Gryskewicz II. Pop is survived by his beloved wife Sue, son Paul (Kim); grandchildren Stacie Moore (Matt), Vickie Kegley (Daniel), James Gryskewicz (Jessica), John Gryskewicz (Nikkie), Abby Gryskewicz (Casey); great grandchildren Liam Kegley, Jackson Moore and soon to be baby Gryskewicz. He is also survived by his brothers Chet Gryskewicz (Josephine), Leonard Gryskewicz (Josephine) and many cherished nieces and nephews.

Family invites friends to Lee Funeral Home Calvert, 8200 Jennifer Lane, Owings, MD 20736, on Sunday, July 30 from 3 to 5 pm. A Mass of Christian Burial will be celebrated on Monday, July 31 at 10:30 am at St. John Vianney Catholic Church, 105 Vianney Lane, Prince Frederick, MD 20678. Interment will be private. Arrangements by Lee Funeral Home.